March 21 is SBDC Day! Follow #SBDCDay to join the conversation!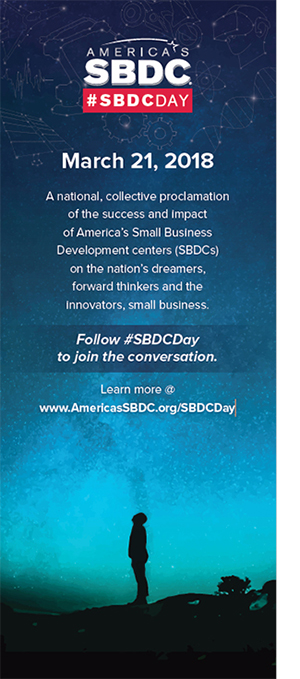 SBDC Day will unite the nearly 1,000 SBDC centers across the country and the hundreds of thousands of clients they serve by sharing, in real time, the success stories and notable impacts SBDCs collectively have on the small business community at large. Help us showcase the impact of the Massachusetts SBDC by being part of the 2nd annual #SBDCDay campaign. This special day will be celebrated with social media campaigns, public relations initiatives, online and in-person events and more. Check out
https://americassbdc.org/SBDCDay/
to learn more!
Featured Event
Digital Marketing Trends for Small Businesses in 2018

March 21 @ 2pm ET
webinar

Click here to register
Join us for a special SBDC Day Webinar – Digital Marketing Trends for Small Businesses in 2018.
Entrepreneurs start with a dream. Through hard work, innovation, and determination, they turn that dream into a small business. What's next? Time to market your business! But customer expectations are ever changing – so it's important to stay one step ahead. Join us as we explore top trends for small businesses, including: – How to use data to make smarter marketing decisions – How to create more personalized messages – How to do more business and save time with simple automation.
Click here to register
!
Successful entrepreneurs continually seek ways to improve the management and operation of their business, often seeking outside advice to help with particular challenges. Studies consistently show that Massachusetts citizens receive a strong return on their investment by utilizing the services of the MSBDC Network. Our clients outperform other businesses in the state in average sales and job growth.
The Massachusetts Small Business Development Center Network is committed to helping your business succeed in Massachusetts. We provide free, confidential, one-to-one business assistance and free or low-cost educational training programs to prospective and existing small businesses throughout the Commonwealth. The MSBDC fosters the start, growth and sustainability of small business by providing high-quality, in-depth advising, training and capital access.
Areas of assistance include, but are not limited to: business plan development, preventure feasibility, cash flow analysis, personnel and organizational issues, conventional and non-conventional financing, marketing, international trade, SBIR and government procurement.
Watch a short video on the SBDC Story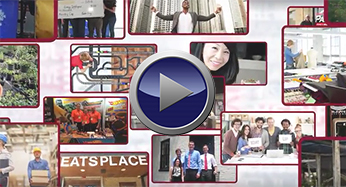 A partnership program with the U.S. Small Business Administration and the Massachusetts Office of Business Development under cooperative agreement SBAHQ-18-B-0001 through the University of Massachusetts Amherst, Isenberg School of Management. SBDCs are a program supported by SBA and extended to the public on a non-discriminatory basis. SBA cannot endorse any products, opinions or services of any external parties or activities. By contacting our office and requesting at least two weeks in advance, every attempt will be made to reasonably accommodate persons with disabilities and those who need translation services.








Massachusetts Small Business Development Center Network
Tillson House
University of Massachusetts
23 Tillson Farm Road
Amherst, MA 01003
413-545-6301 | Fax 413-545-1273