Massachusetts Export Center

Recognizing the need to make export services easily accessible to companies of all sizes, the Massachusetts Export Center was established to serve as the state's one-stop resource for export assistance.
The Massachusetts Export Center offers a full range of targeted, customized services to Massachusetts businesses at any stage in the export process. Whether you are a small business just thinking about exporting or an experienced exporter, the Massachusetts Export Center stands ready to help with services suited to your needs! Click here to read quote from clients.
Services include, but are not limited to:
Export Counseling and Technical Assistance
International Market Research and Assessment
International Business Development Assistance
Export Training Programs
Massachusetts Export Resource Center

Click on the image below to watch a short presentation on the Massachusetts Export Center (8:47 mins).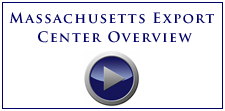 Click on the SoundCloud logo to listen to an interview with Paula Murphy, director of the Massachusetts Export Center, who discusses the Export Center's history and activities, the exporting climate in Massachusetts, and the outlook for international trade policy under the Trump Administration (47:20 mins).