City and Town Listing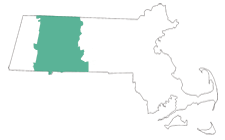 The Western Regional Office provides business assistance to the following Massachusetts cities and towns, all of which are either in Franklin, Hampden or Hampshire county. Even if your city or town isn't listed below, you may still receive assistance through our office. Click on map at right to view the area served by the Western Regional Office.
You may also visit the MSBDC Network's statewide website to determine which office is closest to you.


Agawam | Amherst | Ashfield
Belchertown | Bernardston | Blanford | Brimfield | Buckland
Charlemont | Chester | Chesterfield | Chicopee | Colrain | Conway | Cummington
Deerfield
East Longmeadow | Easthampton | Erving
Gill | Goshen | Granby | Granville | Greenfield
Hadley | Hampden | Hatfield | Hawley | Heath | Holland | Holyoke | Huntington
Leverett | Leyden | Longmeadow | Ludlow
Middlefield | Millers Falls | Monroe | Monson | Montague | Montgomery
New Salem | North Orange | Northampton | Northfield
Orange
Palmer | Pelham | Plainfield
Rowe | Russell
Shelburne | Shutesbury | South Hadley | Southampton | Southwick | Springfield | Sunderland
Tolland
Wales | Ware | Warwick | Wendell | West Springfield | Westfield | Westhampton | Whately | Wilbraham | Williamsburg | Worthington