Contact Us
The Massachusetts Small Business Development Center Network is committed to helping your business succeed in Massachusetts. The Western Regional Office is open Monday through Friday from 8:30 a.m. to 4:30 p.m. Facilities are handicapped accessible. In order to serve you better, business advisors are available by appointment only. Sorry, but we cannot accommodate walk-ins.
Please contact us and we will be happy to serve you. We look forward to meeting with you!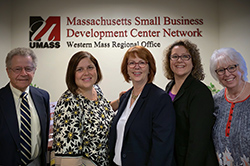 Massachusetts Small Business Development Center
Western Regional Office
Scibelli Enterprise Center
One Federal Street, Building 101
Springfield, MA 01105
Tel: 413-577-1768
Fax: 413-737-2312

By contacting our office and requesting at least two weeks in advance, every attempt will be made to reasonably accommodate persons with disabilities and those who need translation services.