Interstate Manufacturing Company, Inc.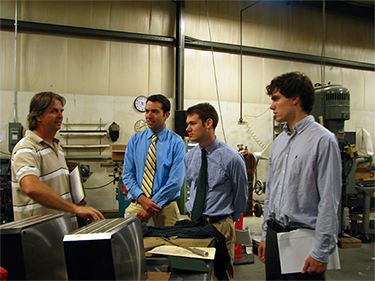 Interstate Manufacturing Company (IMC) was started in 1996 by Keith Stone [photo left] to compliment Interstate Design Company (IDC), a company started by Keith's father in 1973 that produced tool design drawings for several large aerospace corporations including General Electric Aircraft Engines and Pratt & Whitney. After thirteen years with IDC involved in all aspects of the tool design business, it was decided that a manufacturing company would be the next logical step to expand the family business.
Interstate Manufacturing Company was incorporated in Rutland, Vermont. It began as a 600 square foot, two-person job shop, that provided support to the nearby GE plant. In late 1999, IMC and IDC moved into their newly constructed 10,000 square foot building in Agawam, Massachusetts. Today they design and manufacture high quality jigs, fixtures and tooling for many prime contractors on current projects such as the Joint Strike Fighter. IDC and IMC have both achieved ISO 9001:2000 status, positioning themselves as a preferred supplier to their current list of customers. They are also a member of the Aerospace Components Manufacturers.
www.interstatemanufacturing.com
"I have been working with the MSBDC for short-term management advice and long-term goal planning. The bimonthly meetings allow IMC to see its way through some of the challenges it faces that are sometimes unique to the manufacturing industry."