Center Content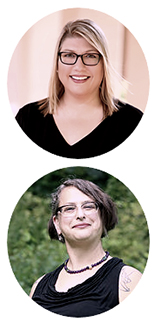 Since August 2018, Erin Feldman [photo bottom] and Krista Kellogg [photo top] have been working with business advisors, Liliana Kualapai and Anita Eliason from the Western Regional Office. Together the team worked on business planning, QuickBooks setup, and business management for their startup company, Center Content.
Center Content is a boutique marketing and creative content agency providing a range of creative services for businesses, nonprofits, and individuals, with a focus on sound strategy, compelling content, and elegant design. Services include, but are not limited to, content writing, brand strategizing, editing and proofreading, creative consulting, and professional coaching.
Erin Feldman is a published writer and poet with nearly 20 years of experience as a classroom educator, writing instructor, professional development facilitator, yoga teacher, and outdoor leader. She builds meaningful relationships to shape content and build client loyalty while outlining strategic campaigns to realize client goals. She supports colleagues in developing their vision, voice, and the self-respect crucial to success.
Krista Kellogg is a lover of words with an eye for tasteful design. She brings an artful approach to brand storytelling. Known for her natural savoir-faire, she is imaginative, adaptable, and sensitive to the level of nuance involved in complex creative endeavors. As a previous Director of Marketing and Director of Client Development, she specializes in creating and managing successful creative campaigns for a variety of clients.
"Working with Liliana and Anita through the MSBDC has been crucial to our first six-months in business. Not only have we gotten concrete training and support with business development topics such as Quickbooks and networking, but all the MSBDC staff have been a source of inspiration and confidence as we set sail." ~ Erin Feldman