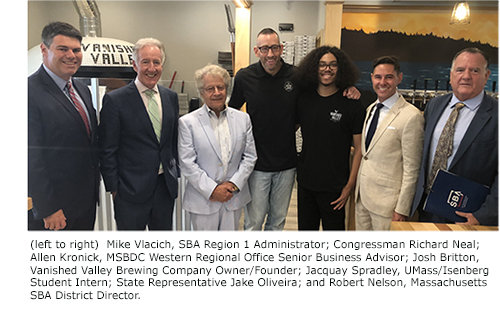 On July 25, 2022, the U.S. Small Business Administration (SBA) celebrated its 69th birthday with an event featuring Congressman Richard Neal at the Vanished Valley Brewing Company in Ludlow. The event was covered by local media, including WWLP 22 News.
Vanished Valley Brewing is a client of the MSBDC Western Regional Office and exemplifies the various small businesses that have benefited from SBA programs.
During the celebration, Josh Britton, founder and owner of Vanished Valley Brewing, gave a spontaneous and complimentary testimonial about the MSBDC Western Regional Office's help to him. Josh gave a huge thanks to Allen Kronick for his numerous years of support as senior business advisor at the MSBDC. Josh expressed his deep appreciation for the help that the MSBDC played in expanding his dream.
When Josh was looking for an intern, he asked Allen for recommendations. Allen, who teaches marketing at the University of Massachusetts Isenberg School of Management, had one of his students, Jacquay Spradley, apply for the position. As Vanished Valley Brewing's new intern, Jacquay created and implemented several new marketing strategies that have helped increase the company's exposure and reach new customers.
Allen also noted, "UMass/Isenberg students are our most cherished resource. Students are bright, uninhibited, and up-to-date on current trends. The interns apply all they have learned to real life businesses."
Visit Vanished Valley Brewing's website at vanishedvalley.com.