SolarOne Solutions, Inc.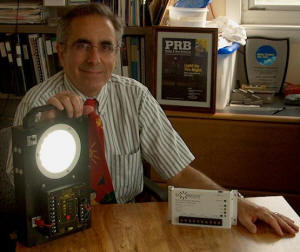 "Several years ago, we began getting inquiries about our solar-powered lighting systems from Dubai in the United Arab Emirates," recalls Moneer Azzam, President and CEO of SolarOne Solutions, Inc. in Needham.
The United Arab Emirates, he continues, is becoming a hot spot both for innovative solar power and low-carbon energy innovation. "In a short time, we received so many inquiries that we urgently needed to find a business partner—the right partner—in the region to seize those opportunities."
Azzam turned to the MSBDC's Massachusetts Export Center, where Central Massachusetts Regional Director Julia Dvorko and her team generated a report evaluating potential business representatives in Dubai. "I met with a handful of them and chose Gargash Lighting Systems, a leading lighting company in the Gulf, based in Dubai," he remarks.
For SolarOne the story only got better. The new partner helped secure a contract for SolarOne that made it a primary provider for roadway and parking lot streetlights in Masdar City in Abu Dhabi, the capital Emirate of the UAE. Masdar is touted as the world's first zero-carbon footprint city. SolarOne's system was selected after a sandstorm followed by several cloudy days knocked out the other solar powered lighting sources under evaluation. Only SolarOne's self-contained lighting kept on shining.
Each SolarOne street lamp is a self-contained lighting system that is independent of electrical grids. Like cell phones, the lamps allow communities and regions without grids and related infrastructure to leapfrog that 'stage' and associated costs of technological advancement. Ship a SolarOne streetlamp to Masdar (or to Haiti, where SolarOne recently sent lamps for disaster relief), install it in the ground, and it's good to go.
The lamps employ efficient white LEDs that illuminate desired areas without spillover (i.e., wasted light) into undesired areas. Their reduced energy requirements (no secondary lenses) allow for smaller solar panels and need fewer batteries. That means lower cost. The entire system is regulated by the firm's proprietary SOBright Technology, which uses tracking and algorithms to manage each fixture's light output. That allows for adaptation to low-power input conditions, including cloudy days and sandstorms, like those encountered in Masdar. An Enduring Relationship.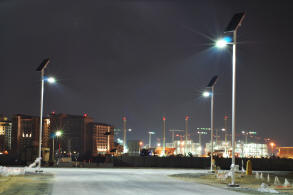 SolarOne's relationship with the Massachusetts Export Center goes back several years, when the center researched European market opportunities for the firm. "They've also helped us leverage U.S. government services and connections for a significant project in Mexico," adds Azzam. "And they've trained some of our employees, showing them nuances of international contracts and other export issues and procedures."
More recently, the Massachusetts Export Center helped SolarOne do business in North Africa. It identified a business partner and helped the firm navigate tariff duties, which can have a significant bottom-line impact. Dvorko, notes Azzam, was able to swiftly identify national tariff rates for SolarOne's product code. "She showed us how you can reduce a 30% tariff on equipment to 5% if you bundle it with other products," he remarks. "The Export Center allows us, a small business, to enjoy some big-company resources. In that way, the Export Center helps us and other small companies to compete globally."
When completed, Masdar will have a population of 45,000 as well as 60,000 commuters associated with its 1,500 environmentally innovative businesses and university, Masdar Institute of Science and Technology. Zero-carbon infrastructure will include a solar power plant, widespread rooftop photovoltaic modules, wind farms, a solar-powered desalination plant, extensive wastewater recycling, and eventually the world's largest hydrogen power plant.
"The Export Center allows us, a small business, to enjoy some big-company resources. In that way, the Export Center helps us and other small companies to compete globally."