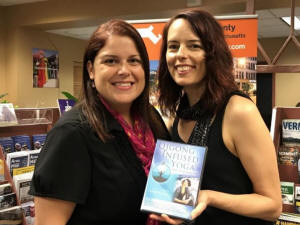 Lynne Nicole Smith [photo right] is the founder and instructor of Qigong Infused Yoga and Creator of the Qigong Infused Yoga DVD. Smith has been teaching Qigong and Gentle Yoga for almost two decades and has created Qigong Infused Yoga so that people can benefit from both mind and body practices.
From her company's infancy, Smith has worked with Samalid Hogan [photo left], Regional Director of the MSBDC Western MA Regional office, who helped her with business planning, marketing, sales strategies, and website development. "Lynne Nicole brings to her business great energy, enthusiasm, and an authentic interest in helping her clients improve their well-being," said Hogan.
With the launch of her Qigong Infused Yoga DVD this year, Smith has taken her business new heights.
"Samalid was a huge part in guiding me to make the DVD I created. She advised me step by step on ways I can promote my business and she provided valuable resources and connections for me along the way," noted Smith. "The support I continue to receive from the MSBDC is incredibly valuable in helping me to stay on the right track."