MSBDC hosts capital matchmaker event in Worcester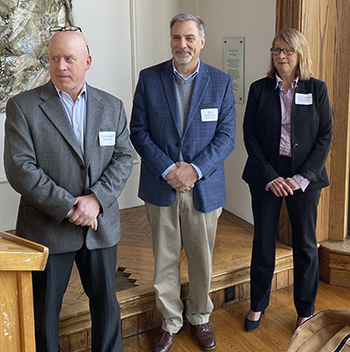 On November 21, 2022, the Massachusetts Small Business Development Center's Central Regional Office at Clark University, partnered with the U.S. Small Business Administration to hold a Capital Matchmaker event. Over 100 small businesses and lenders came together for the event.

Tom Herald, MSBDC senior business advisor, moderated the small business panel about overcoming adversities in a post-COVID world and what the future looks like. Ili Spahiu, SBA Deputy District Director, led lenders in an open panel discussion on what makes for a successful loan application, and how lenders look at credit.
[photo: MSBDC Central Regional Office senior business advisors (l-r): Tom Herald, Rob DelMastro & Cheryl Miller]