Senator Markey Visits the SBA Massachusetts District Office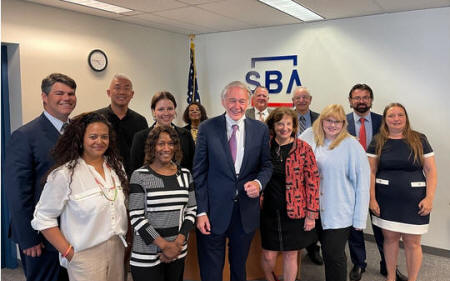 Boston — On June 28, 2022, Senator Ed Markey met with staff from the SBDC and other organizations that support small businesses to express his appreciation for their collaborative partnership in the last few years of working together to help Massachusetts companies in accessing COVID-relief programs and providing critical support to enable them to survive the disruption of the pandemic. Joining the SBDC at the event at SBA's district office in Boston were SBA Regional Administrator Mike Vlacich and SBA District Director Bob Nelson, along with representatives of SCORE and Center for Women and Enterprise.
"We are honored by Senator Markey's comments of support and for his commitment to helping the Commonwealth's small businesses survive and grow," noted Massachusetts SBDC Interim State Director Christian Conroy. Over the past two years, the SBDC network provided nearly 29,000 hours of advising support to just under 9,000 small businesses and prospective entrepreneurs. This helped them acquire over $193 million in financing and to launch 746 new companies.