Livia's Dish
The following contains portions of an article from the Worcester Business Journal story, Solid Financial Footing Can Carry Startups A Long Way.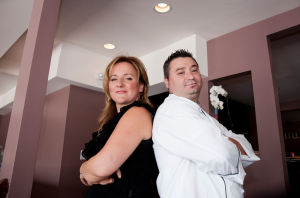 (Worcester, MA) Oriola Koci [photo left], with her husband, Chef Enton Mehillaj [photo right], said her business plan for her Worcester restaurant, Livia's Dish, was strong enough that two banks vied to lend her money. They received help from the Massachusetts Small Business Development Center (SBDC) Central Regional Office at Clark University to help launch the restaurant in Worcester. The SBDC's director, John Rainey said it can be challenging to prove that someone who wants to launch a business can meet the qualifications for receiving a loan.
For every ill-fated proposal and business that folds in the first five years, one survives. Oriola Koci, owner of Livia's Dish, an Italian eatery that opened on Main Street in Worcester last year, hopes she'll be a success story. After receiving assistance from the SBDC, Koci said her business plan was so sound that she had two banks fighting to lend her money. But getting to that point was an eye-opening experience for Koci, a business major who previously worked in the corporate world.
"I don't think anything really prepares you for what's about to come when you open your own business," Koci said.
With a year under her belt, Koci said she and her husband, Enton Mehillaj, a professional chef who works with her, feel like they've found their footing, with the initial struggles related to opening behind them and operations running smoothly today. Armed with business savvy and industry expertise, Koci said coming up with the concept for her eatery was no problem, but convincing a bank that her business would be profitable was a different story. She suggested would-be entrepreneurs seek out the appropriate professional help to make their case, as she did with the SBDC.
Koci said the most important factor in getting financial backing was understanding all the nuanced information banks required on her venture's profitability to agree to a loan. "It's the ability to walk up to the bank and be able to say to them, 'I'm going to borrow this money and I'm going to be able to pay it back," she said.
Finding Startup Money
Coming up with startup cash may be one of the most challenging aspects of launching a business, but there's more than one way to do it. John Rainey, regional director of the Small Business Development Center (SBDC) at Clark University, said securing private investors, specifically family members, can be a good option.
"It's always better if you don't have to pay people back or you can get a lot more lenient terms," Rainey said.
Of course, borrowing from family members can become complicated if a business doesn't perform well early on, Rainey noted, though it's better than defaulting on a bank loan, and it may be the only option for entrepreneurs who need to come up with their share of the initial investment.
Learning the Lending Ropes
The SBDC provides business consulting services to aspiring entrepreneurs, and Rainey said that many times, people are unaware of all that's involved to obtain a bank loan for a business. Advisors at the SBDC teach clients "the five Cs of borrowing" to familiarize them with standard requirements, Rainey said. They include credit history, character (a person's ability to run a business), cash flow, collateral and commitment (an initial investment).
Proving that one meets the merits of an ideal loan recipient is challenging at best and impossible for some, Rainey said. In cases in which banks find a loan candidate too risky to lend to, Rainey said alternative loan programs, like SBA-backed loan guarantees and state-sponsored small business loan programs, are good alternatives as they often have less stringent requirements.
"We help (clients) navigate that minefield," Rainey said.
In some instances, there are no financing options available to would-be business owners. Usually, they have good ideas but don't have enough money to put down on a loan—banks usual require 20 to 25 percent, Rainey said.
"We tell them to go live like a monk for a year and then come back and start over," Rainey said.