Kulae's Eco-Friendly Products Earn Good Karma
Coaching and capital from MSBDC and MGCC help businesses grow

By Norman Eng, SBA Public Affairs Specialist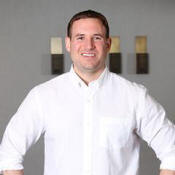 A football player, Jeff McSharry [photo] sustained several knee injuries throughout his high school and college playing career. Friends got him to take yoga classes for his injuries, and that's when he began realizing the health benefits of yoga.
In 2009, a friend founded Kulae, where McSharry started working as the sales director. After about six years of building the business and polishing Jeff 's skills to eventually take over the business, the founder wanted to exit and sell the business to McSharry so he could focus on other projects.
MSBDC Business Development Coaching
When McSharry took over as owner of KULAE, he began getting more focused in all aspects of the business and started meeting more regularly with a business mentor he saw speak at a business seminar – Jill Beresford, senior business advisor with the Massachusetts Small Business Development Center, Southeast Regional Office.
McSharry got to work and created a business development strategy focused on boosting social media and digital marketing - hiring a social media manager to increase brand awareness. He also took an old school approach by hammering the phones and sending off emails to get face-to-face appointments. Business began taking off when McSharry started traveling to trade shows and getting in front of customers, such as yoga studios and fitness centers for custom bulk orders. Kulae also began a winning strategy of co-branding yoga mats, working with customers such as Airbnb, Wanderlust, Fitspot and Hippeas.

"When I met her [Jill Beresford] originally two years ago, the business wasn't where I wanted it to be – I was struggling because it was my first year running a business," said KULAE CEO McSharry. "Jill has been a Godsend."

KULAE kept growing and needed more capital for launching new products, cash flow for product order fulfillment and to attend trade shows to generate contacts. McSharry had a significant order he had to pay upfront for inventory, and knew that he could pay down any debt capital borrowed quickly.
Mentor Jill Beresford helped him understand different funding options and introduced him to different loan programs, including the SBA microlending program. McSharry met with loan officer Robert Williams at Massachusetts Growth Capital Corporation who helped him with the application process for a microloan – which he was approved and helped finance his business needs.
The SBA Microloan program provides financing up to $50,000 to assist with working capital, or the purchase of furniture, fixtures, supplies, materials, and/or equipment.
In the future, McSharry sees KULAE as a potential top three yoga product company in the United States. KULAE has a warehouse and fulfillment center in Haverhill, Massachusetts that holds all of their products and dropships orders worldwide. Currently, he employs independent contractors while he continues building the business; someday hoping to hire a full-time team when the time is right.