FloDesign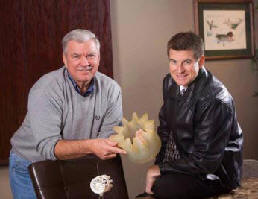 "The MSBDC's Dianne Fuller Doherty not only offered us sound business advice; she embraced our dream and urged us to think big," emphasizes Stanley Kowalski III [photo right], who is CEO of the Wilbraham-based engineering and design companies, FloDesign and its spinoff, FloDesign Wind Turbine Corporation.

Founded in 1990 by its current chief technology officer Dr. Walter Presz, Jr. [photo left], FloDesign focuses on innovations in air and fluid dynamics and process engineering. Its dozens of patents have yielded product innovations for military aircraft that generate reduced heat signatures, a nonlethal cannon that fires bursts of air instead of bullets, more efficient, quieter jet engines and leaf blowers, and now a wind turbine that Kowalski believes will prove to be a game changer in the renewable energy market. Says Kowalski: "It's what Harvard business professor Clayton Christiansen calls a "disruptive technology"—a revolutionary innovation that topples a market's technology status quo."

A radical improvement over traditional horizontal axis wind turbines, FloDesign's mixer/ejector alternative generates 50% more power at a cost of 25% to 30% less. "Dianne realized that we had a potential winner in a green technology market poised for enormous growth," notes Kowalski, who joined the firm as its CEO in 2007. (Although Kowalski spent nine years as a new product development engineer with a photo finishing firm in Palmer, his involvement with FloDesign dates to the early 1990s when he was Presz's engineering student at Western New England College.)

"Dianne was persistent in encouraging us and in helping us to sharpen our presentation to potential funding sources," he continues. "She pulled together a team of entrepreneurs and financiers who listened to our presentation and gave us precise, strategic feedback."

"Stanley is a serial entrepreneur and he's also an engineer in love with his technology," remarks Doherty, who is regional director of the MSBDC's Western Regional Office in Springfield. "During his presentations, we kept stressing—ease up on the technology; focus on your business and marketing plans." To that end, Kowalski honed an airtight business plan in support of a well-researched message that the market for wind turbines would likely exceed $20 billion and that his company could capture $3 billion of that potential market. With critiques from Doherty and her cohorts under his belt, Kowalski was ready for the real thing.

In April 2008, FloDesign Wind Turbine Corporation secured a $500,000 loan from the Massachusetts Technology Collaborative, the state's development agency for renewable energy and technology innovation. Kowalski is using the loan, which requires a company match, to build his first prototype. A month later, the company won the $200,000 grand prize in the MIT Clean Energy Competition. In that contest, Kowalski received valuable support in preparing and presenting his financials from William Noto, a UMass Amherst MBA student. The UMass Amherst campus' Isenberg School of Management frequently collaborates with Doherty's center and is headquarters for the statewide MSBDC Network.

Even more momentous was the outcome of Kowalski's presentation earlier in the spring to the eminent venture capital firm, Kleiner Perkins Caulfield and Byers. The firm, which includes Al Gore, Colin Powell, Bill Joy, and V.C. icon John Doerr among its partners, was duly impressed. It has earmarked several million dollars in first-stage financing for Kowalski and his project.

With its new-found resources, Kowalski is moving full speed ahead to bring FloDesign's revolutionary wind turbine to market. That includes developing its prototype, searching for a more spacious facility, and readying to hire the company's first wave of core employees. If all goes according to plan, Kowalski foresees his product's market entry by as early as 2010. "Dianne helped us to set our sights high," affirms Kowalski. "Now we must execute against the clock to maintain our competitive advantage."