Flexo Concepts
Winner of SBA's 2018 Exporter Small Business of the Year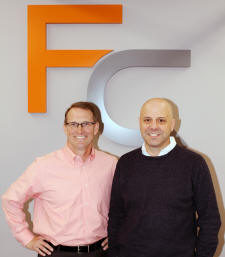 Kevin McLaughlin, CEO [photo left] and Greg Howell, President [photo right] of Flexo Concepts earned the recognition of Exporter of the Year for their innovations in the printing industry and outstanding growth in export revenue. The company manufactures an industrial scraper blade called a doctor blade, used in many industries including: corrugated printing, label printing, folding carton printing, lithium ion battery production, food production, and solar film production.
"Exporting empowers small businesses to grow sales boundlessly," said SBA Massachusetts District Director Robert Nelson. "Since committing in 2001 to expanding their international business portfolio from 17% of total revenue – Flexo Concepts today has grown export revenue surpassing the entire revenue from 2001. "
Flexo Concepts has exported to countries all over the globe including: Cambodia, China, India, United Arab Emirates, Egypt, Mexico, Belgium, Denmark, France, Germany, Latvia, Spain, Sweden, United Kingdom, Canada, Brazil, Peru, Australia, and New Zealand.
The company leveraged the expertise of the Massachusetts Export Center and Massachusetts State Trade Expansion Program (STEP) program to expand their export revenue to approximately 40% of the business in 2018.
"Our entire company is very proud of winning the exporter of the year award. Increasing our exports has been a focus of our company since 2001 and has required effort and commitment from every department and every person at Flexo Concepts. We cannot think of an award that better represents the effort our entire team," said CEO Kevin McLaughlin. "In addition we have received great support from industry partners and organizations like the SBA, Massachusetts Export Center, MassMEP and others. Making exports such an important part of Flexo Concepts has truly been a team effort."
The STEP grant was awarded to Flexo Concepts for five consecutive years in a row, and was used to offset the cost of exhibiting at international trade shows that paved the way for new business development relationships.
Flexo Concepts also utilized the SBA 504 program twice to secure financing for their existing factory and an adjacent building that has been expanded due to further growth. The first loan was in March of 2010; and the second loan closed in January of 2015 both with Rockland Trust Bank and CDC New England, an SBA Certified Development Corporation.