Euro-American Worldwide Logistics

SBA and Massachusetts Export Center supports life sciences market expansion
By Norman Eng, Public Affairs Specialist, U.S. Small Business Administration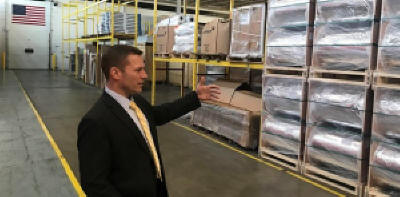 Worcester-based Euro-American Worldwide Logistics has been providing supply chain solutions for the life science industry for three generations.
The family-owned firm was started in 1966 by Neil Lucey, who began exporting products in the heyday of manufacturing in central Massachusetts. Co-owner and Treasurer Karen Busenburg became the first licensed female customs broker in Massachusetts back in 1972 when it was a male-dominated industry. Today, Lucey's grandson, Eric Busenburg, is at the helm of the company — leading the company through the next phase of growth with a focus on the life sciences industry.
Pharmaceutical companies can't simply ship medical products and equipment in typical fashion. It is a highly-regulated industry, major players have come to rely on Euro-American locally as their trusted go-to because of their expertise with international trade compliance and specialized shipping services, such as "cold chain" refrigerated shipping and storage — tailored specifically for life science products and critical supplies.
"Worcester, and Massachusetts in general, is achieving critical mass in the life science industry. We're doing our part to support that success by providing reliable access to GMP storage, international shipping services and expertise in trade compliance," said Busenburg. "The SBA has been a great resource for us as we continue to support this sector. We have been working closely with Julia Dvorko at the Massachusetts Export Center for a long time," "We're so thankful for Julia, who once delivered a joint presentation with our team to educate a local biotech company which was preparing to launch a new drug to market."
Taking over as president, in recent years, after working at the company for over 24 years, Busenburg began by seeking out executive-level resources and support. In 2019, Busenburg found out about the SBA Emerging Leaders Initiative, first learning about the training program from the Worcester Chamber of Commerce CEO Tim Murray and SBA MA District Director Bob Nelson.
Eric was accepted into the half-year program for C-level executives, receiving mentoring and specialized training that helped him develop a strategic growth action plan for the next phase of the company's development. He was able to uncover strengths and opportunities that his organization could prioritize and invest in to position the company for continued success.
Improving quality and increasing growth
Eyes set on the future, Busenburg is now focused on building additional infrastructure to match the increased demand for their turnkey services, growing their logistical support for both well-established pharmaceutical providers and new biotech startups preparing to launch new drugs to market.
To ensure regulatory compliance is met, Busenburg obtained ISO-9001 certification for the company and has implemented lean business practices, both of which center on continuous improvement in order to maximize the quality of service delivered to their clientele. The company has also digitized work processes such as automatic shipment tracking, temperature monitoring and 24/7 video monitoring — helping to produce an error-free environment and eliminate delays and unnecessary worry which often come with this industry.
The next phase for Eric is increasing growth, which is evident in his short-term goal to double the amount of refrigeration space for pharmaceuticals and biomanufacturing. The company is also working on obtaining CEIV certification for pharmaceutical excellence from the International Air Transportation Association (IATA); as well as improving its' branding to communicate that they work with international trade across the world, not just Europe!
The value proposition of the company is clear – life science companies trust working with Euro-American because of the close and direct access to their expertise, a well-established freight forwarder with in-house customs brokerage experts whom have 50+ years' experience with highly regulated medical industry assets.
Visit eaafinc.net for further information.