Easthampton Machine & Tool, Inc.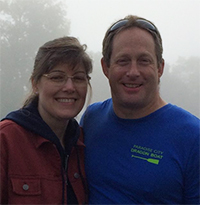 Chris and Laurie Heon's journey began in 2014 when they purchased Easthampton Machine & Tool, Inc. (EMTi).
Before becoming owner, Chris worked as a machinist with EMTi and today continues to maintain strong relationships with EMTi's engineers and buyers. Laurie manages the marketing, financials, and all administrative duties of the business. Together they work to provide precision tooling, prototypes, and more to commercial manufacturers throughout the United States.
The MSBDC Western Regional Office started working with Easthampton Machine & Tool in 2014 when they first met to review financial reports. In 2017, Samalid Hogan, regional director, started working with Laurie and Chris. She connected them with Inner City Capital Connections and later nominated them for the Goldman Sachs 10,000 Small Businesses Program.
Since being nominated, EMTi has acquired many new customers and is on track to increase revenue by 25% this year. The duo thanks the MSBDC for their efforts in improving their business.

"Samalid always looks for ways to connect businesses to each other, and is on the lookout for grants and special financing opportunities to benefit small businesses. She really cares about us and our business." ~ Laurie Heo