Titcomb's Bookshop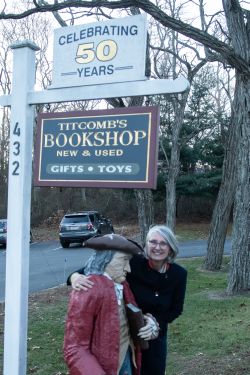 Titcomb's Bookshop's mission is to share the written word and a love of reading with everyone who visits their shop by offering a carefully curated selection of books, hosting events to introduce readers to authors, and fostering a sense of curiosity and openness to new ideas through literature.
Ralph and Nancy Titcomb feel a special passion for sharing the love of reading with children who are just starting on their life's journey. Reading opens doors into the world and opens minds to a world of possibilities and opportunities. They are committed to playing a leading role in creating a community of readers and encouraging every child to be a reader, be curious, and be an informed person.
Titcomb's Bookshop is a family business attached to Ralph and Nancy Titcomb's 1690s Cape Cod home in East Sandwich. Four generations of the Titcomb family have worked at the bookshop, along with an incredible group of dedicated, smart, hard-working, book-loving employees, many of whom have been on this journey with them for years.
The Titcombs started selling rare papers and books, that their children found in an old barn in their yard, in Canterbury, Connecticut in 1967. Ralph soon began purchasing old books for resale and started a part-time antiquarian bookshop with sales by catalog, called 'The Paper Barn,' from his home. When they moved to Cape Cod, they found a home with room for eight children, their mother's mother, and a bookshop. They moved in July 1969 on the day the USA's Apollo 11 landed on the moon and they opened the shop in August – 50 years ago.
The original bookshop was a carport attached to the house. They tore down the original (and leaky!) building in 1986 and built a two-story barnlike structure with full basement. They did everything themselves from the foundation, to the shingling, and even crafted their oak sales desk and book cases.
In 1974, their oldest son created the iconic statue of a colonial man in front of the shop. The statue, made of wrought iron, has become a local landmark for residents and tourists alike. Adults, children, and visiting authors often stop to take a picture with him.
Daughter Vicky Titcomb returned to manage the bookshop in 1991 after a career in museum work in Delaware and Maine. All eight children have worked in the store over the years in one way or another, as well as most of the 21 grandchildren.

'Old Children's Books' was always a strong section in the store. Soon after Vicky returned to the bookshop, she saw the need in the community for new children's books, too, and they have continued to expand the selection of new books for both adults and children ever since.
The people and the Town of Sandwich have been very supportive of local businesses and the influx of tourists on Cape Cod has supported their mission. They also have the benefit of proximity to Boston and many talented writers with ties to the Cape. The store is involved, busy, and thriving more each year more than the last.
Cliff Robbins, Senior Business Advisor with the MSBDC, met Vicky in 2003 and has worked with her on and off since then. He encouraged her to think about finances and marketing. She started a 'Shop Local' program in town, is involved with the bookselling community, and takes advantage of numerous educational opportunities and resources that are offered. Titcomb's Bookshop has become a better bookstore and has lasted 50 years.
---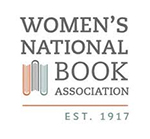 The Women's National Book Association has revealed the nominees for its 2019 WNBA Pannell Award, which is presented annually to two bookstores—one general bookstore and one children's specialty store—that enrich their communities by inspiring a love of reading. The award is co-sponsored by Penguin Young Readers Group.
The nominees in the General Bookstore category are: 57th Street Books in Chicago; Appletree Books in Cleveland Heights, Oh.; Big Blue Marble Bookstore in Philadelphia; Books Inc. in San Francisco; BookShop Santa Cruz in Santa Cruz, Calif.; Casa Camino Real Book Store in Las Cruces, N.M.; East City Bookshop in Washington, D.C.; Gathering Volumes Bookstore in Perrysburg, Oh.; Joseph-Beth Booksellers in Cincinnati; Kepler's Books in Menlo Park, Calif.; Let's Play Books in Emmaus, Pa.; Main Street Books in Davidson, N.C.; Octavia Books in New Orleans; Peregrine Book Company in Prescott, Ariz.; Rakestraw Books in Danville, Calif.; Rediscovered Books in Boise; Skylight Books in Los Angeles; The Book Cellar in Lake Worth, Fla.; The Book Tavern in Augusta, Ga.; The Galaxy Bookshop in Hardwick, Vt.; The King's English Bookshop in Salt Lake City; Third Place Books in Lake Forest Park, Wash.; Titcomb's Bookshop in East Sandwich, Mass.; Toadstool Bookshop in Milford, N.H.; Towne Book Center in Collegeville, Pa.; Vroman's Bookstore in Pasadena, Calif.; Wesleyan RJ Julia Bookstore in Middletown, Conn.
The nominees in the Children's Specialty Bookstore category are: Books of Wonder in New York, N.Y.; Charlie's Corner in San Francisco; Hicklebee's Book Store in San Jose, Calif.; Hooray for Books in Alexandria, Va.; Linden Tree Books in Los Altos, Calif.; Monkey See, Monkey Do... Children's Bookstore in Clarence, N.Y.; Second Star to the Right Books in Denver; Square Books Jr. in Oxford, Miss.; The Briar Patch in Bangor, Me.; and The Reading Bug in San Carlos, Calif.
The winners will be presented at the BookExpo Children's Book and Author Breakfast on May 31 in New York City. Each of the two winning stores will receive a $1,000 check and a signed original piece of artwork by a children's illustrator.