Sjogren Industries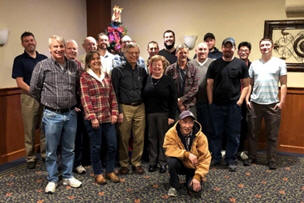 A manufacturing innovator since 1927, Sjogren Industries of Worcester provides the highest quality machinery, tooling, and accessories for the wire and cable industry. The Sjogren belief that "simple ideas make better solutions" has been at the core of its innovative product designs since its inception. From immigrant mill worker, to inventor, entrepreneur, and Captain of Industry, the story of Oscar Sjogren is an embodiment of the American Dream and continues in the spirit of their team today.
MSBDC Central Regional Office staff were recruited by Carl P. Sjogren, President and CEO, to lead a $2 million capital investment and market planning project. Carol had assimilated a team of School of Management students from Clark University and engineering students from Worcester Polytechnic Institute (WPI) to develop and execute the plan. The students from Clark developed a comprehensive marketing plan to reach tensile testing customers around the globe. The WPI students developed an interactive web-based application and landing page from this plan that incorporates the client's high-tech "Smart Parts" ordering system so clients can custom order 24/7.
This project has expanded into a three-year Strategic Planning initiative to drive the growth and sustainability for this fifth-generation enterprise well into the future, as a well-known and viable employer in Worcester. The company just crushed their Q1 goals of 2022 and are well on their way to reclaiming their status as an international contender in the wire tooling industry. The consulting team of marketing and finance students from Clark University will help Sjogren Industries achieve their BHAG of $5 million in annual revenue by 2025.
The synergy in action with these projects is a vibrant testimony of the collective talent and resources of the U.S. Small Business Administration, Massachusetts Small Business Development Center, and local higher educational institutions coming together as a collaboration force to foster the growth and sustainability of small business in Central Massachusetts.

"If you are ready to step up to the big league we strongly recommend working with the Central Regional Office of the MSBDC."
Carl Sjogren, President and CEO