Odd Meter Coffee Co.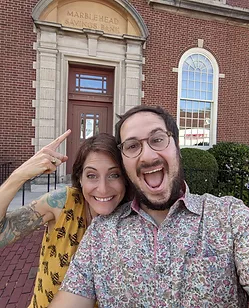 The MSBDC Northeast Regional Office worked with Angelica Chayes and Eric Moers who moved to Massachusetts, got married, and launched a coffee shop in 2020. This all happened during COVID which caused a few bumps in the road, but did not stop them. Angelica and Eric launched the Odd Meter Coffee Co. with a 3-year 7A loan from Marblehead Savings Bank and a line of credit. They put in money from their own savings, along with funds from family and friends.
The small coffee shop in the heart of Salem is based on values first and foremost, and this is resonating with locals and tourists alike. Angelica and Eric's philosophy of paying their full-time employees a living wage is a main point of differentiation in their business plan, as well as their commitment to the environment, their community, and exceptional coffee. This has translated into happy employees and happy, loyal customers.
The Odd Meter Coffee Co. has over 3,300 Instagram followers, over 1,100 Facebook followers and over 100 5-star reviews on Google!