Golden Paw Pet Services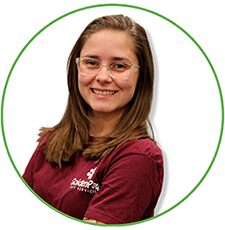 Fernanda Dourado [photo] is a young immigrant who came to the MSBDC in October 2021. At the time, she had a small business that she ran out of her house. Fernanda provided dog walking, dog taxi service, doggie daycare and boarding services. However, as she was doing all of this from her home, she could only take a few dogs in her daycare and board one dog at a time.
Fernanda came to our office asking for help to expand her business, Golden Paw Pet Services. In March 2022, Fernanda opened her new facility in Marlborough where she now offers doggie daycare and boarding services for numerous dogs. She has continued dog walking and even offers a pet taxi, but she has refocused her main attention on services at the new facility. She plans to add grooming services soon.
Rob DelMastro, an MSBDC Central Regional Office advisor, worked with Fernanda to raise capital for the buildout of the new facility. Fernanda had approached a few banks on her own, but was unsuccessful in getting financing. The MSBDC advisor introduced Fernanda to Massachusetts Growth Capital Corporation (MGCC) and they worked with her to help fund the buildout of the new space.
Fernanda is a determined entrepreneur—"no" and "failure" are not in her vocabulary! Golden Paw Pet Services is projected to show a 250% revenue growth in the first year and close to 300% profit growth in three years. Fernanda is definitely the definition of a success story!