The Freight Yard Pub & Restaurant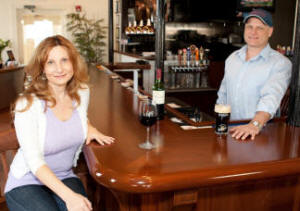 (North Adams, MA) "In this economy, you have to go back to basics," emphasizes Colleen Taylor, who with her brother, Sean Taylor, shares ownership of The Freight Yard Pub & Restaurant in North Adams. The brother-sister team has owned and operated the restaurant at historic Heritage Park, for 19 years.
With nearly two decades of business experience and choice business sites, the Taylors were poised for bigger things. When a disruptive, three-year bridge construction project began just outside The Freight Yard's door, revenues went into a tailspin.
"When gas prices hit the roof in August 2007, the price of every grocery item in our kitchens rose. A delivery surcharge also drove up costs," recalls Colleen. "As the economy grew worse, people began eating out less. And then the bridge construction made things much, much worse."
Colleen first met MSBDC Berkshire Regional Director Keith Girouard on May 8, 2008 at a U.S. Senate Small Business sub-committee hearing at Berkshire Community College. The chairman, Senator John Kerry, convened the hearing to gather testimony on the status and needs of small businesses. Girouard offered MSBDC assistance after hearing Colleen's compelling story on the impact of the deepening recession on her business. "Colleen and Sean had run a successful business for 17 years; they were a much appreciated asset to their community," explains Girouard. "They were great candidates for MSBDC services."
Rethinking the Business. Soon afterwards, Girouard and the Taylors began meeting twice a month to develop strategies that would cut their restaurants' expenses, create more efficient operations, better manage their 40 employees, and create marketing campaigns to improve visibility and sales. A revised, polished business plan helped the owners buy time by securing working capital with two new bank loans, one of them with a U.S. Small Business Administration guarantee.
"For years, our business had done extremely well. We knew, though, that when adversity hit, we had to adapt," recalls Colleen. "Sean and I are former athletes. We're both coachable and were eager to learn from Keith, who helped us to rethink our business model and introduce systems for short- and long-term profitability and growth. Working with him, we now have well-documented systems in place to deal with cash flow, payroll, inventory, purchasing, pricing, and delegation of responsibilities. Each day I touch base with our head chefs, sous chefs, and barmen, who work out production needs and pricing with salesmen. Everyone's responsibilities from opening to closing duties are now in writing."
Colleen and Sean have also given greater attention to marketing. "We've developed a website for our restaurant and try to get the best dollar for our advertising by targeting audiences like students and tourists," she remarks.
"Above all, Colleen and Sean's story illustrates how determination and tenacity can overcome adversity," remarks Girouard. "They've responded to the recession and the bridge construction by improving both of their businesses. Their community continues to value them and their restaurants; they are on solid footing and poised for long-term growth."