FootCare by Nurses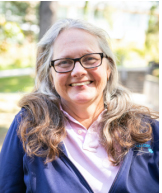 FootCare by Nurses launched five years ago beginning with a Business Basics class offered by the MSBDC. Kate Clayton-Jones [photo right], founder/president/CEO/owner, embraced all aspects of business management as she planned her business providing at-home footcare services, catering to those who were homebound. The business has expanded to include services to clients at senior centers and those in rehabilitation hospitals. Kate worked with Anita Eliason, senior business advisor with the MSBDC Western Regional Office.
Kate was a nurse and went on to receive a PhD with research focusing on the impact of footcare on quality of life. Kate has added her dissertation to the library of studies documenting footcare as a key preventer of falls and thus prolonged injury and death.
In 2021, FootCare by Nurses surpassed $1M in revenue and performed over 14,000 nursing visits. They didn't stop working during COVID because people still needed nursing care. FootCare by Nurses now has 15 registered nurses who travel in western Massachusetts providing services. The nurses are supported by an administrative staff and a bookkeeper. The company currently leases an office in Greenfield and is looking to purchase a building where the staff can expand, and services can be offered in-house.
Kate has a unique way of balancing her work in the business and on the business. That focus will soon expand FootCare by Nurses to include patients using Medicare benefits. Additionally, FootCare by Nurses will expand beyond western Massachusetts with a team being formed in eastern Massachusetts. This business has been developed as though it would franchise, and its operations and focus reflect the ability to expand with relative ease.
Anita has been an amazing supporter, mentor and guide. A great person to bounce ideas off of and a staunch supporter. Anita believed in me and the vision and I was willing to do the work and to learn. I called Anita when I was scared, I called her with good news. I don't think I would be here without her help. If she suggested something, I did it. I still use the blackboard work up Anita and I did to guide me.

~ Kate Clayton-Jones, Founder