Classic Burgers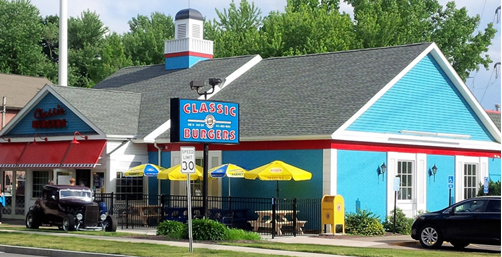 In 2014, Barry Parker founded Classic Burgers, a unique fast-casual restaurant in West Springfield, Massachusetts.
Barry came to the MSBDC Western Regional Office in 2013 for assistance in starting his business. He met with Allen Kronick, senior business advisor, who helped him obtain funding and write a business plan with financial projections. Throughout the years that Classic Burgers has been in business, Barry has utilized MSBDC services and programs, including SBA guaranteed loans and CARES ACT grants and loans. Barry has always been a strong advocate of the MSBDC and utilizes our services and resources.
Classic Burgers has a 1950's theme where patrons sit in authentic Chevrolet car seats from that era. The restaurant offers a well-rounded classic American menu, along with homemade ice cream. Barry states that he treats every customer as special – they are in the business of selling customer service- in fact they are obsessed with that and impart that message to all their employees.
The pandemic was a very big challenge for the restaurant industry. However, due to Barry's persistence, creativity, and passion, Classic Burgers was able to not only survive, but also to grow. Sales reached over $1.3 million – the highest level of any year. In doing so, Barry was able to retain his 18 employees and contribute to the economic health of the local community.
As a local business owner, Barry is heavily involved in the community, and frequently donates to local programs and charities. His good deeds have been featured on various local media, including newspapers, and television. Barry, along with his General Manager Harry Anischik, strive to provide their customers with exceptional service and a wholesome, family-orientated experience each time they enter the restaurant. They often say that the main product that Classic Burgers provides its customers is excellent service.
It has been our honor to work with Barry and know that he has made a difference to the city of West Springfield, the region, and the many small businesses and employees that were impacted.