Clash Physical Therapy & Health Services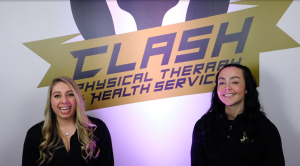 Sarah Clayton [photo right] and Ashlyn Tersigni [photo left] are co-owners of Clash Physical Therapy & Health Services in Worcester.
Sarah attended an MSBDC accounting webinar in March 2021 after registering the business with the Secretary of State. Immediately after attending the webinar, Sarah reached out for counseling at the MSBDC Central Regional Office to build her business acumen for the new venture. Sarah and Ashlyn launched operations on April 1, 2020 as a team, through our office when they began a strategic planning project. They formed a corporation in February 2021 as a 100% female-owned enterprise. Clash Physical Therapy is located in a local business incubator on Brussels Street and it is quickly outgrowing the space.
Sarah and Ashlyn have worked diligently to develop bylaws, an operating agreement, marketing plan, sales plan, and pro forma financials for 2021 and 2022. By the fourth quarter of 2021, they exceeded their goals for 2021 and are working toward expanding operations and hiring new staff.
Ashlyn and Sarah are pioneering a new path for physical therapy by developing strategic alliances with local gyms, golf courses and private practice medical providers to present an array of services like preventative measures for high-impact athletes to progressive rehabilitative measures for patients who have suffered traumatic brain injuries. The CLASH model of care is based on the fact that progressive healthcare requires a dynamic, personal and collaborative interaction between the provider and their patient. Their model is effective and appealing and will challenge norms of therapy established by large hospital groups and insurance companies.
Sarah and Ashlyn are model students whose aptitude and passion for business and healthcare will make them a jewel client of the MSBDC.