Boston Pedorthic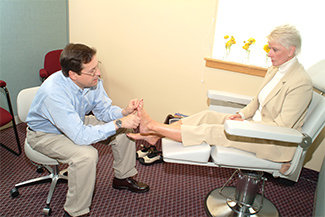 Helping people feel better on their feet is the raison d'etre for Boston Pedorthic, a veteran- and woman-owned small business.
In February, COVID changed walking and standing habits for millions of Americans—and it happened nearly overnight. If not for the assistance of the Massachusetts Small Business Development Center, the family-operated, health care practice would have shuttered, affecting thousands of patients.
When COVID hit, athletes and weekend warriors kept up with their advanced custom foot orthotics. Those people fortunate enough to have good health and time to spare went outside to enjoy walking, running and cycling. But those people with diabetes and other vulnerable disease-states were instructed to stay home, to protect themselves from the virus. Orders for custom shoes, and other footwear for patients with risk-conditions of the feet, stagnated.
Founder and U.S. Army veteran, Eric Schuster, C.Ped, M.A., started the board-certified pedorthic facility in 2003, with a mission to bring optimal standards for pedorthic materials, tools, and methods, typically understood and accessible among European healthcare treatment plans, including orthopedic shoemaking and pedorthics. Pedorthic training and mentorship opportunities at the end of the 20th century were scarce. Eric immersed himself in anatomy, physiology, pathology, and biomechanics, and interned with masterful pedorthic practitioners domestically, and abroad, among other sources of multi-disciplinary professional resources for his professional and reliable performance in clinic. Today, he is known for his passion for getting it right. Patients with complex presentations find him but, "you're only as good as your last job", he acknowledges. Eric also serves as pedorthist for the New England Ambulatory Care Clinic of the National Hansen's Disease (Leprosy) Program at Lahey Hospital & Medical Center.
Elizabeth Schuster, C.Ped, MBA, the spouse to Eric, joined Boston Pedorthic during the great recession when she realized that she needed to pivot in her career, a contortion many people face today as they confront the limitations of earning a livelihood during a global pandemic.
But the practice was threatened when lockdown began. Through one-on-one advising and training from the Massachusetts Small Business Development Center, Boston Pedorthic was able to quickly receive the financial assistance they needed to continue operating. Offering up-to-the-moment, inside knowledge of government programs was a relief to the ears as Ms. Schuster struggled to figure out how to keep the business afloat. An SBA EIDL advance, EIDL low-interest loan, and PPP provided financial reserves until patients started to return.
With financial stressors turned to low, family and staff used the time to educate themselves on new CDC and state guidelines for COVID and make changes to the physical space and to their behaviors in order to keep their patients and themselves safe.

"It was such a pleasure to work with Walter [Manninen] from Massachusetts Small Business Development Center.
I could relax, trusting that we were in competent hands."