Boston Centerless
Winner of the 2023 SBA Massachusetts Exporter of the Year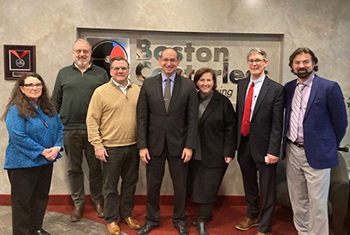 Established in 1958, Boston Centerless has grown to be a full-service manufacturer and distributor of precision raw materials and preparation services for customers in the medical, aerospace & defense, automotive, and other industries requiring precision components. The company employs 127 people, with its headquarters located in Woburn, MA and additional distribution facilities located in Minneapolis, MN and Fort Wayne, IN.
The company has been exporting for over 20 years and has been receiving support from the Massachusetts Export Center, part of the Massachusetts Small Business Development Center, for much of that time. The Export Center has helped Boston Centerless over the years with a variety of export-related issues, including export regulatory compliance, export operational concerns, international channel development, international sales and marketing, and more. Through the Export Center, Boston Centerless also took advantage of the STEP Grant program to help support participation in some targeted Asian trade shows. Most recently, the Export Center has been working with Boston Centerless to help the company identify niche distributors serving specific vertical markets in Canada to address increasing demand from end customers in the region. Boston Centerless is well-positioned for continued global expansion, with export sales growth outpacing domestic markets for the company.
"Boston Centerless is a great example of a traditional manufacturing company using innovative means to break into new export markets," said Paula Murphy, Director of the Massachusetts Export Center. "We have had the pleasure of supporting Boston Centerless' global expansion and the company is well-positioned for further advancement, with export growth outpacing domestic sales."