The Borrowed Teacup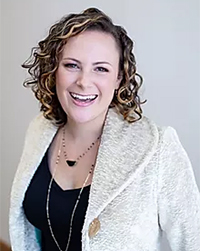 The Borrowed Teacup, founded by MSBDC client Megan Dobro [photo] in 2018, is an event rental and design company providing fine tableware and settings for one-of-a-kind special events. Megan found her niche in this industry after designing her own wedding and realizing her passion for specialty event decor and design. Whether she is laying out settings for a corporate dinner or a child's tea party, Megan creates a beautiful atmosphere for the hosts and their guests to enjoy.
Megan came to the MSBDC after thinking about opening her business for three years, but not knowing where to start. She met with Liliana Kualapai, MSBDC business advisor with the Western Regional Office, who encouraged her to pursue The Borrowed Teacup and equipped Megan with the tools to get her business off the ground.
"Without Liliana," said Megan, "I'd just be a woman buried alive by a mountain of dishes in her home. But now I'm a business owner booking regular events and having a blast." Together, Liliana and Megan developed marketing strategies and financial management systems. "We didn't realize we were getting a business coach, cheerleader, and advocate all in one. We're blown away that this service exists," notes Megan.
"Megan's creations are awe-inspiring. Her attention to detail, enthusiasm, and creative energy make her an absolute joy to work with," says Liliana, "I am thrilled to witness her ongoing success."