Berkshire Brewing Company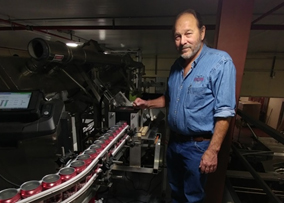 Gary Bogoff [photo] was a general contractor and cabinet maker prior to launching Berkshire Brewing Company in 1994. What started out as a hobby in 1991, took Gary and his co-founders on a journey that they could not possibly imagine.
A key skill Gary developed as a contractor and cabinet maker was to ask lots of questions. During the genesis of his business, it was of the local business assistance network that answered his questions about the possibilities of owning his beer company. He started with the Franklin County Chamber of Commerce who were very helpful and referred him to the Franklin County Community Development Corporation for more advice. The business support community next connected him to the Western Regional Office of the Massachusetts Small Business Development Center. The assistance from all the resources led him to be able to secure an SBA loan from Fleet Bank to purchase the building they now reside in – which opened in October of 1994. Gary has worked with Western Regional Office of the MSBDC throughout the years and continues to do so.
As Berkshire Brewing Company grew, the capacity (or lack thereof) to bottle and can beer grew along with the company. You see, the first ten years, Gary and his small team literally hand bottled all their beer. When this was no longer practical, he transported the beer to a canning facility. Wanting independence and control, he started working towards the purchase of canning equipment.
Gary reached out for access to capital counseling from the MSBDC Central Regional Office to secure financing through the SBA 504 loan program. After completing the process, his company was approved for a 504 loan, administrated by BDC Capital and third party financing through SBA lender, Community Bank NA (formerly NUVO, a division of Merchants Bank). The canning equipment/machines have increased the brewery's capacity from 3,100 gallons a year (in the early days) to an incredible 620,000 gallons today – leading to higher revenues from his bottom line!
As Gary looked to grow the brand and explore other markets, he enlisted the assistance of the MSBDC Western Regional Office on marketing strategy. They utilized a unique program where business student interns from the Isenberg School of Management at UMass Amherst helped develop and solidify the marketing plan. Additionally, Gary has worked with the MSBDC's Massachusetts Export Center exploring sales opportunities overseas in China and France.
Located less than a mile from the popular tourist spot Yankee Candle, the brewery has become a popular place for visitors to experience a tour of the facility. All BBC beer is unfiltered, unpasteurized, and contains no chemical additives or preservatives. This ensures that all their beer is fresh, local, and delicious. Since their opening they have grown from two employees to over 60 full time employees. Their high quality and loyal staff have contributed to the company's success; today they are in the list of top 75 craft brewers in New England. As craft brewers, they produce nine styles of beer year round and up to 25-30 different brews in total.
Gary built his business on this founding principle, "it's all about the beer, but beer is nothing without the people."
As a small local brewer, Gary has always ensured his company was an integral part of the community. They have donated a portion of its Shabadoo beer sales to the Food Bank of Western Mass. Their donation since 1996 has exceeded $200,000 which is roughly 600,000 meals. They also contribute to local causes such as scholarships, homeless veteran home projects and others. Additionally, they donate all of their spent grain to local dairy farms.
Gary's "hobby" has become an amazing success story of an entrepreneur who utilized the large network of small business assistance that made his dreams a reality!