Partners for Trade Training Policies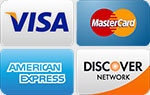 Registration: Preregistration is required for all seminars. Registration for in-person events typically closes at 12 noon on the business day prior to the event. Unless an event is full, walk-ins are allowed (see walk-in section below).
Payment (click on logos pay securely with credit card): We require payment at the time of registration via credit card. Do not email any credit card information. We do NOT accept credit card payments at the door. Also, we do not accept checks, cash or purchase orders, nor do we invoice participants for training.
Cancellations/Refunds: If you cancel your registration at least 48 hours prior to the event, you will be entitled to a refund minus a $10 processing fee. No refund will be given on notifications received after that time or in any no-show situation. All cancellation and refund requests must be made to info@msbdc.umass.edu or 413-545-6309. The Export Center reserves the right to cancel or reschedule a seminar due to insufficient enrollment or other circumstances. In the case of cancellation, registration fees will be refunded.
Walk-Ins: If the program description on our website or registration form indicates that the seminar is full, walk-ins are not allowed. Otherwise, you may complete a walk-in registration and bring the completed form to seminar. If the seminar has a fee, you must make the credit card payment in advance as we do not accept credit cards at the door. Please bring a copy of your payment receipt, along with the completed registration form.
No Shows: Due to the costs we incur as a result of people who register for seminars and do not attend or cancel, we will bill unpaid registrants for the full cost of the seminar unless cancelled at least 48 hours prior to the event. For free seminars, no shows will be charged a fee to cover food and materials costs.
Seminars are offered a at nominal fee; therefore we do not offer any discount pricing. Seminar materials are for attendees only.
If you have questions or need clarification on these policies, please call 413-545-6309.
(updated March 2018)