Global Trade Economic and Regulatory Outlook a Success!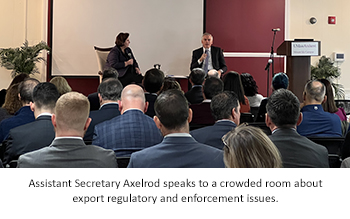 October 20, 2022 — The Massachusetts Export Center, part of the Massachusetts Small Business Development Center Network, recently presented the Global Trade Economic and Regulatory Outlook, featuring Assistant Secretary of Commerce for Export Enforcement, Matthew Axelrod. The event was held at the Mount Ida Campus of UMass Amherst in Newton and also offered online via livestream, with over 150 participants representing leading exporting firms from throughout Massachusetts and beyond.
Assistant Secretary Axelrod addressed new and sweeping changes in export enforcement policy, including increases in penalties, changes in handling of Voluntary Self Disclosures, public release of charging letters, and other anticipated developments as BIS implements a stronger enforcement regime. These actions have been in response to an unprecedented global threat environment. Export controls on such technologies as artificial intelligence, quantum computing, hypersonic and biotech will be needed to counter some of the country's most pressing national security threats, according to Assistant Secretary Axelrod. He also cited some recent export enforcement cases involving China, Russia, defense technology and aerospace to illustrate the need for exporters to be vigilant with their export compliance operations.
Following Assistant Secretary Axelrod's remarks, a panel discussion delved into emerging trends in export controls and economic sanctions, including expanded controls on emerging and foundational technologies, recent changes to the International Traffic in Arms Regulations (ITAR), evolving compliance threats related to China and Russia, other enforcement trends, and the outlook for additional export control reforms. The program also included a global economic outlook and concluded with a networking reception for the global trade practitioner attendees.
Additional speakers included: Brian Amero, Director, Global Compliance and Ethics with Teradyne, Inc.; Jeannette Chu, Managing Director, Export Controls and Trade Sanctions at PwC and former Senior Policy Advisor & Export Control Attaché, Beijing, China with U.S. Department of Commerce Bureau of Industry and Security; Paula Murphy, Director of the Massachusetts Export Center; B. Stephanie Siegmann, Chair, International Trade & Global Security Group at Hinckley, Allen & Snyder LLP and former Chief, National Security Unit with U.S. Attorney's Office, District of Massachusetts; and Stephen Stanley, Chief Economist, Amherst Pierpont at Santander Group.
The Massachusetts Export Center is located at the Mount Ida Campus and provides export advisory and training services to more than 2,000 businesses per year. In FY22, clients reported more than $150 million in export sales as a direct result of the Export Center's assistance.
The Massachusetts Export Center is a part of the Massachusetts Small Business Development Center (MSBDC), a partnership of the U.S. Small Business Administration, the Massachusetts Office of Business Development and a consortium of institutions of higher education led by the Isenberg School of Management at the University of Massachusetts Amherst. For more information, visit www.mass.gov/export.