NAFTA First
NAFTA First is an enhanced assistance program to help Massachusetts businesses succeed in Canada and Mexico.
Massachusetts companies sell a wide range of products to our NAFTA partners. In 2001, Massachusetts firms exported nearly $3.5 billion in manufactured goods to Canada and Mexico. Moreover, export opportunities under NAFTA are expected to grow as tariffs are expected to be largely eliminated by 2003.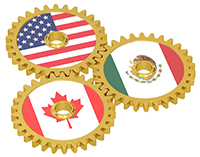 Despite the opportunities afforded under NAFTA, many firms find it challenging to export products to Canada and Mexico. In addition to traditional export obstacles such as obtaining market information and finding partners/customers, firms exporting to our NAFTA partners are also faced with a variety of technical requirements which need to be properly addressed in order to receive NAFTA tariff benefits.
The Massachusetts Export Center is pleased to introduce NAFTA First, a program which provides assistance in the areas of market development and logistics management to help Massachusetts businesses succeed in Canada and Mexico. The program is available to companies already doing business in Canada and Mexico or to those firms who wish to begin export operations with our NAFTA partners.
NAFTA First is a free service offered through the Massachusetts Export Center's statewide network of offices:
Tariff/product classification guidance
Origin determination assistance
NAFTA eligibility determination
NAFTA documentation assistance, including NAFTA Certificate of Origin
Guidance on marking of merchandise according to NAFTA rules
Research and assessment of market potential in Canada and Mexico for specific products and industries
Assistance with potential partner searches in Mexico and Canada
Referrals to appropriate private sector specialists for further in-depth assistance and support
Low-cost seminars on NAFTA issues

Is your business taking advantage of the tremendous opportunities afforded under NAFTA? NAFTA is the world's largest free trade area, linking over 400 billion people and producing $11 trillion worth of goods and services. Under NAFTA, two-thirds of U.S. exports now enter Mexico duty-free and nearly all U.S. exports to Canada enter duty-free. Every day, approximately $1.8 billion is trilaterally traded between NAFTA countries. During NAFTA's first six years, U.S. manufactured exports to our NAFTA partners increased 78%. Annually, Massachusetts exports almost $1 billion more to Canada than to any other country in the world. Massachusetts exports nearly $3.5 billion in manufactured goods annually to Canada and Mexico.