Peter Harrell
Special Assistant to the President and Senior Director, International Economics and Competitiveness - White House National Security Council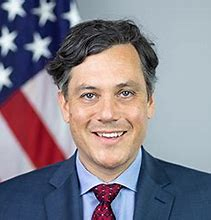 Peter Harrell is the Special Assistant to the President and Senior Director, International Economics and Competitiveness for the White House National Security Council for the Biden administration.
Mr. Harrell is a former adjunct senior fellow at the Center for a New American Security and a leading expert on U.S. economic statecraft, including sanctions, export controls, trade policy, and other geoeconomic tools. He previously served as the deputy assistant secretary for counter threat finance and Sanctions in the State Department's Bureau of Economic and Business Affairs and on the State Department's policy planning staff.
Earlier in his career, Mr. Harrell served on President Barack Obama's 2008 campaign. He also served in the Obama-Biden administration from 2009 to 2014 on the State Department Policy Planning Staff and as a Deputy Assistant Secretary in the Bureau of Economic and Business Affairs. Previously, he was a reporter for Congressional Quarterly in Washington, D.C.
Mr. Harrell is a graduate of Princeton University and Yale Law School.