This year's Export Expo will be held on Friday, December 7, 2018!
Join us for the state's largest and most important export event of the year that brings together resources, training and information for the local exporting community!
The Massachusetts Export Center's Export Expo provides a forum for exporters to connect with the wide range of export resources available in Massachusetts while learning about issues that impact their day-to-day export operations. The event will include an exhibit area featuring government, non-profit and private sector service providers serving the export community. Coinciding with the exhibition, the Export Center will convene workshops and roundtable discussions throughout the day on a variety of export-related topics.

This year's Export Expo will focus on the rapidly-changing global trade environment, including recent and anticipated shifts in U.S. trade policy. Hot-button issues such as China and tariff policy, tightening foreign investment policy, USMCA and free trade policy, export controls, sanctions, enforcement and more will be addressed, with a focus on helping companies to navigate a dynamic and increasingly complex global trade environment.

KEYNOTE SPEAKER

Richard Ashooh, U.S. Assistant Secretary of Commerce for Export Administration [bio]

Assistant Secretary Ashooh will provide an update on the latest export regulatory developments and the outlook for export control policy. Specifically, he will address BIS' implementation of the directives set forth under the Export Control Reform Act (ECRA), including the review of end-use and end-user controls for exports to China and other U.S. and U.N. arms embargo markets. He will also discuss how BIS is working with other agencies to identify "emerging and foundational technologies" as described under the ECRA, and how this may impact development of new export controls for industries such as robotics, artificial intelligence, financial technologies, and others for which Massachusetts is a hub.

SPECIAL GUEST SPEAKER

Clay Lowery, Managing Director - Rock Creek Global Advisors and former Assistant Secretary for International Affairs, U.S. Treasury Department and Chair, Committee on Foreign Investment in the U.S. (CFIUS) [bio]

Mr. Lowery will discuss tightening foreign investment policy in the U.S. and the expanded jurisdiction of the Committee on Foreign Investment in the U.S. (CFIUS) under the new Foreign Investment Risk Review Modernization Act (FIRRMA). Specifically, Mr. Lowery will discuss the CFIUS pilot program, effective November 10, 2018, that will require mandatory CFIUS filings for both controlling and non-controlling foreign investments in U.S. businesses that develop critical technologies associated with several key Massachusetts sectors, including aircraft and aerospace, computers, defense technology, photonics, nanotechnology, biotechnology, marine technology, semiconductor devices and machinery, telecommunications, and others. Mr. Lowery will also discuss trends for CFIUS screening and scrutiny, penalties and enforcement, and guidelines for compliance.

OPENING SPEAKER

Erin Ennis, Senior Vice President U.S. China Business Council [bio]

Ms. Ennis will address the state of the U.S.-China trade relationship, including Section 301 tariffs, as well as trends in other areas, such as intellectual property protection, anticipated tightening of U.S. export controls to China and increased scrutiny of Chinese investment in the U.S. She will also address the response on China's end, including their own retaliatory tariffs, implementation of their new export control regime and other developments. She will provide an outlook for the future of the U.S.-China trade relationship and guidance for businesses as they navigate the rapidly-changing trade environment with China and contemplate mitigation strategies for managing these changes.


New at the Expo! US-UK Trade Agreement Listening Tour


Join us at the Export Expo to add your voice to the discussion as the U.S. prepares for a trade agreement with the UK! The Office of the U.S. Trade Representative (USTR) has commissioned an investigation to be conducted by the U.S. International Trade Commission (USITC) on barriers for U.S. SMEs exporting to the UK, including challenges associated with the upcoming Brexit implementation. The USITC will bring its listening tour to the Export Expo to hear directly from Massachusetts exporters. Join us for this unique opportunity to provide your input on what is expected to be a landmark trade agreement with one of Massachusetts' most important trading partners!

Export Expo Workshops
Opening Plenary Session
U.S.-China Trade Outlook
U.S. Foreign Investment Policy Trends & Expanded CFIUS Jurisdiction
Keynote Plenary Address
Export Regulatory Update & Implementation of the Export Control Reform Act
Workshops
Strategies for Advocacy and Input on Trade Regulations & Policy
US Mexico Canada Agreement (USMCA) & Trends for U.S. Free Trade Policy
Tariff Wars: Managing Change & Rethinking Your Supply Chain
Staying Ahead of the Curve: Assessing & Mitigating Compliance Risk in Today's Volatile Trade Climate
U.S. Economic Sanctions Update
New This Year!
U.S. International Trade Commission (USITC) US-UK Trade Agreement Listening Tour
Plus - Drop-in Export Advice Clinics
Global Trade Logistics & Finance: Getting Your Goods Delivered & Getting Paid
Managing Global Operations, Risk & Compliance
Government Resources for Exporters
>> Click here to see what Governor Baker says about the Export Expo!
The Export Expo will feature influential guest speakers, opportunities to connect with experts to answer your specific export questions, networking and fun! This event regularly sells out. Space is limited, so register early!
Exhibitor and sponsorship opportunities are available! Click here or contact Paula Murphy at 617-973-6610 or paula.murphy@massexport.org for further information.
Date: Friday, December 7, 2018
Time: Registration & Exhibits Open at 8:30 a.m.; Program 9:00 a.m. – 4:30 p.m.
Location: State Transportation Building, 2nd Floor Conference Center, 10 Park Plaza, Boston
Cost: $45 / no charge for Compliance Alliance members (includes workshops, exhibits, breakfast, and lunch)
Contact: Massachusetts Export Center at 617-973-6610
Photos from 2017 Export Expo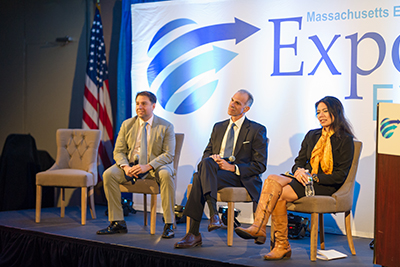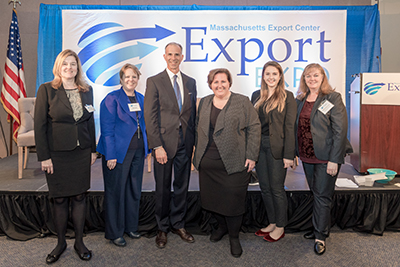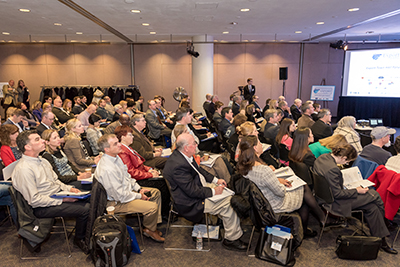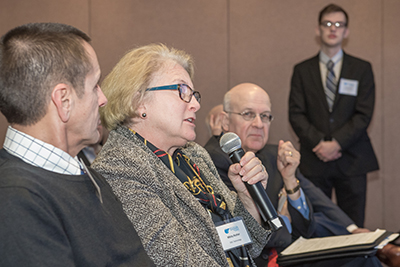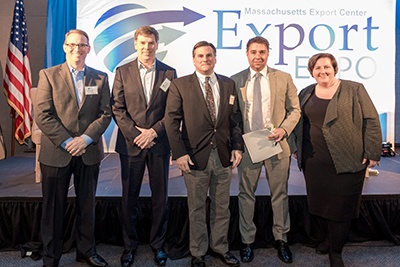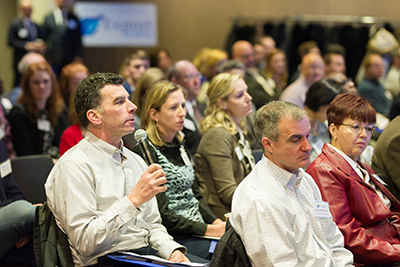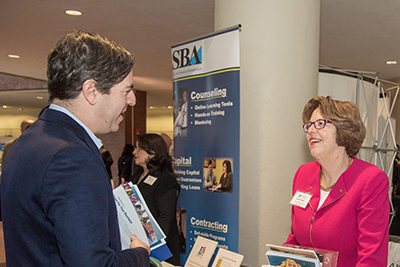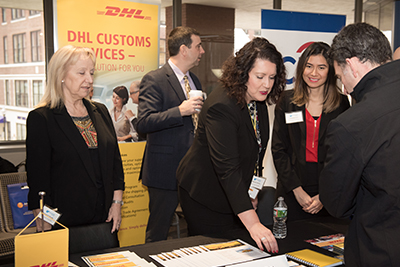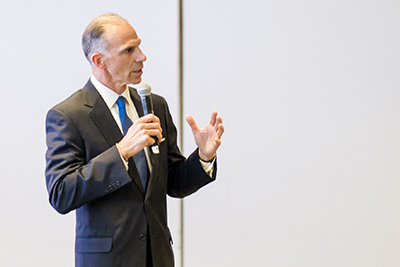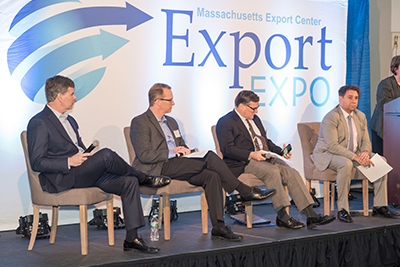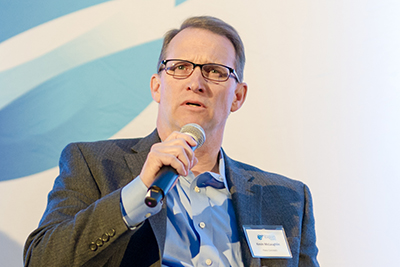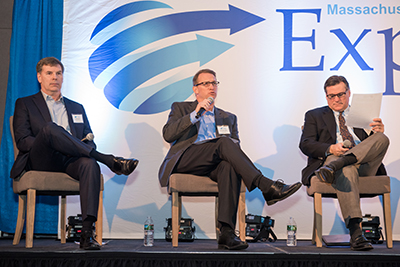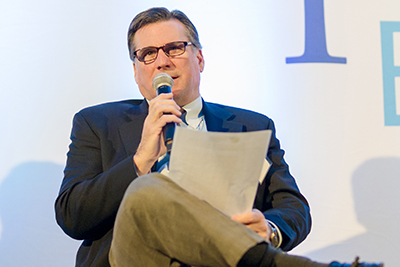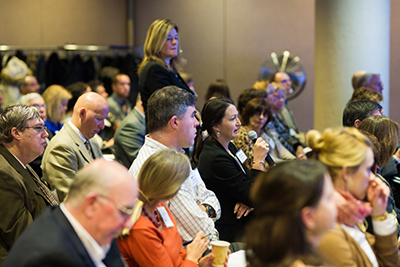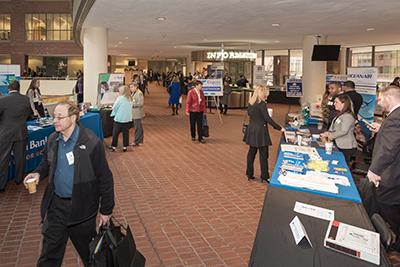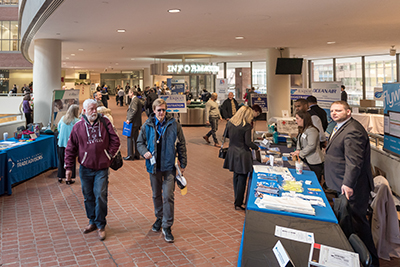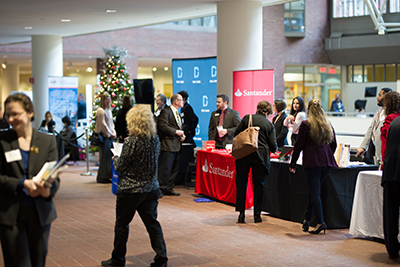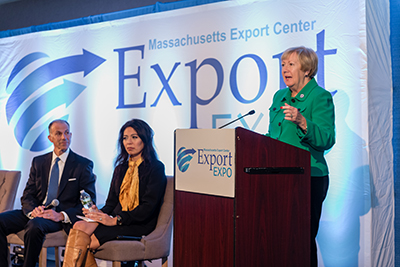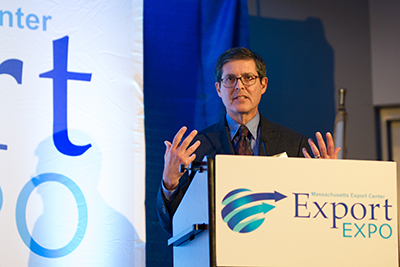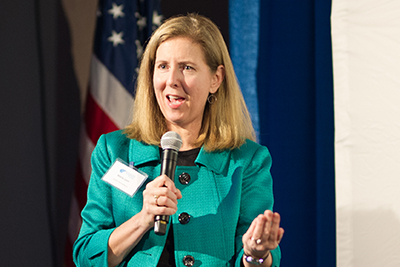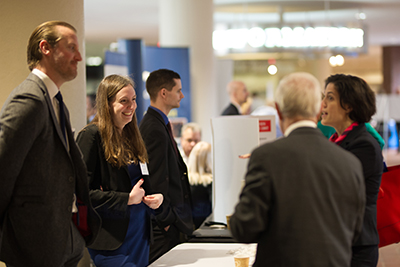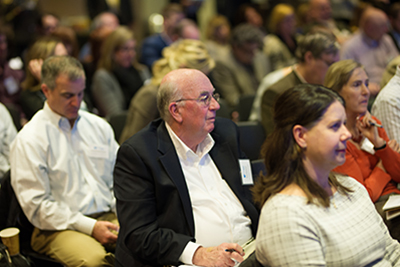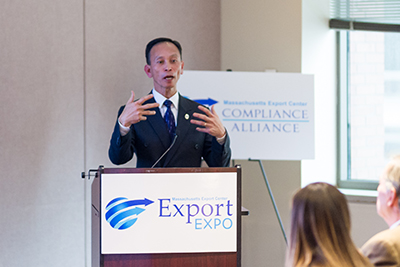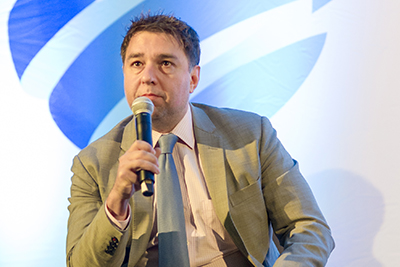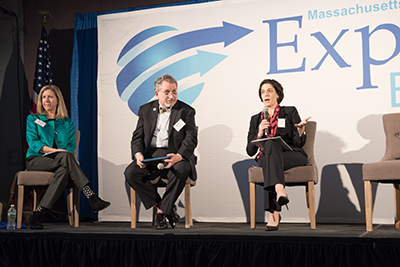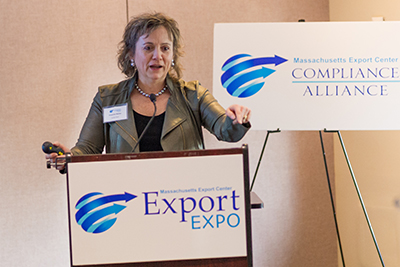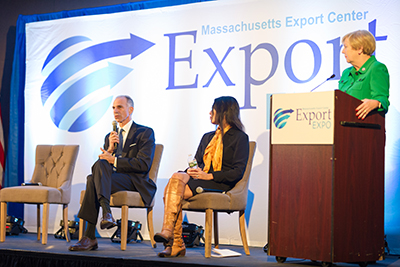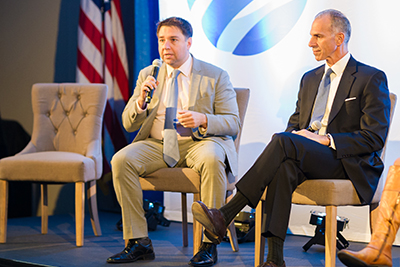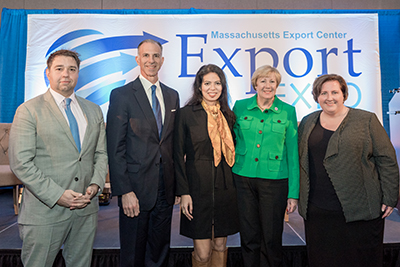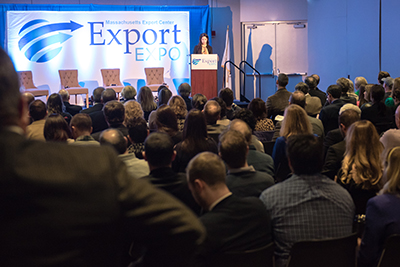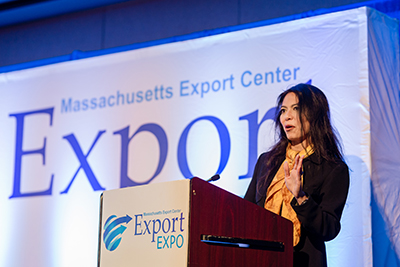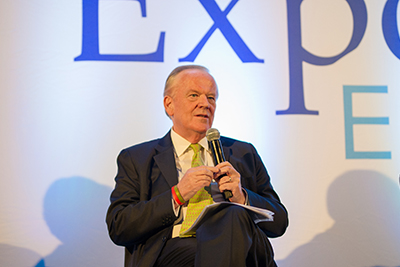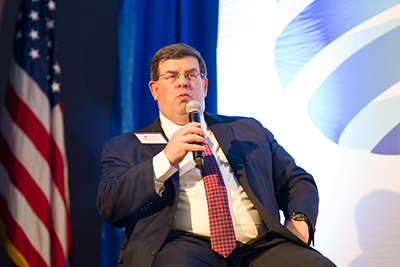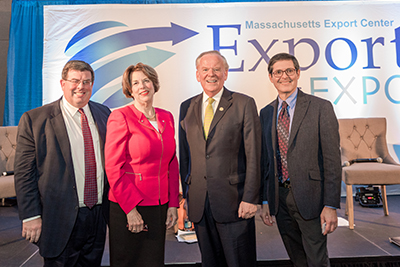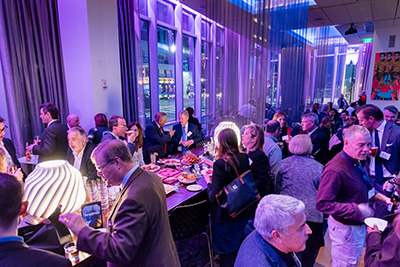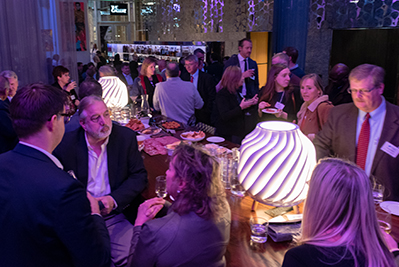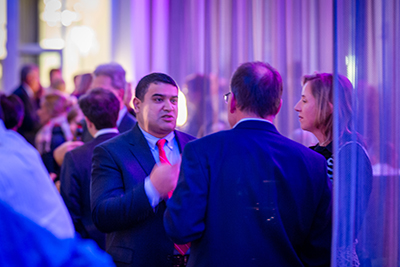 Sponsors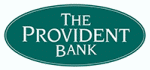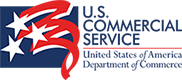 Ex
hibitors

Supporting Partners