The Export Expo will be held virtually on Thursday & Friday, January 25 & 26, 2024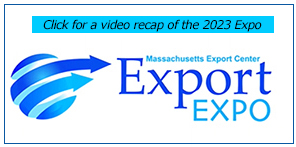 Join us for the Export Expo – the state's largest and most important export event of the year that brings together resources, training and information for the local exporting community. Attendee registration will open in the fall. Sponsor registration is now open (see below).
The Massachusetts Export Center's Export Expo provides a forum for exporters to connect with the wide range of export resources available in Massachusetts while learning about issues that impact their day-to-day operations.
This year's Export Expo will again be a virtual event that will include an exhibit area featuring government, non-profit and private sector service providers serving the export community. The Export Expo will also feature a lineup of workshops, panel discussions and special addresses on a wide variety of export-related topics. The Export Expo will feature influential guest speakers and opportunities to connect with experts to answer your specific export questions. We hope that you will join us for the same timely and important international trade content in a convenient and safe virtual format! Our virtual platform will provide opportunities for networking and allow participants to view all of the conference's content, so you won't miss a thing!

**Call for Sponsors: The Export Expo will provide a forum for service providers to display their information and connect with exporters from throughout the state. We invite law firms, banks, freight forwarders, translation firms, consultants, global trade automated solutions providers, government authorities, and other export service providers to sponsor the Expo, which will also include workshops, panel discussions, and special addresses on a wide variety of trade-related topics.
Sponsors benefit from significant and repeated promotional exposure to over 10,000 exporter contacts on our database. Early bird sponsors receive extra benefits, including the opportunity to showcase their global trade expertise. Last year's event attracted nearly 600 attendees and our early bird sponsorship slots sold out. Check out our Sponsorship Package to learn more! Check out our previous Export Expo Video Recaps below to see the event in action! >>Click here to register as a sponsor now!
2024 Export Expo Sponsors:
2023 Export Expo Lineup
Special Keynote Guest

Thea D. Rozman Kendler [bio]
Assistant Secretary of Commerce for Export Administration

Assistant Secretary Kendler will provide an update on the latest U.S. export regulatory developments, including new controls targeting China's technology production capabilities, expansion of list-based and end use restrictions, and the strategic evolution of export control policy under the Biden Administration.

Pre-Expo Opening Speaker

Kevin J. Wolf [bio]
Partner

—

Akin Gump Strauss Hauer & Feld LLP
Former Assistant Secretary of Commerce for Export Administration

Mr. Wolf will discuss the 2022 Export Control Year-in-Review, discussing major export control developments and trends over the past year. Join us to hear directly from one of the leading authorities on U.S. export controls while also having the opportunity to ask questions impacting your company's global trade compliance operations.

Hot Topics in Global Trade Panel

Hear from leading experts on a number of top-of-mind issues impacting global trade policy, including export controls, economic sanctions, trade and tariff policy, the U.S.-China trade relationship, multilateral initiatives, and more.


William Reinsch [bio]
Senior Advisor & Scholl Chair in International Business

—

Center for Strategic and International Studies (CSIS)
Former Under Secretary of Commerce for Industry and Security

Ronald Baumgarten
Of Counsel

—

Baker & Hostetler LLP
Former Deputy Assistant U.S. Trade Representative, Southeast Asia & Pacific

Rory Murphy
Vice President, Government Affairs

—

U.S. China Business Council

and special guest moderator
Doug Palmer
Senior Trade Reporter

—

POLITICO
CEO Panel: Navigating a Transitioning Global Environment

Join us to hear directly from CEOs of leading local companies engaged in international trade to discuss their successes, challenges and tips for operating in the current global environment, including breaking into new international markets, global supply chain disruptions, the effects of escalating global trade barriers, and more!


Claire Ehmann [bio]
Deputy Associate Administrator for International Trade
U.S. Small Business Administration

Svetlana Aptekman
CEO

—

Hi-Gear Products, Inc.

Bruce Bishop
President & CEO

—

CrossTek Membrane Technology LLC

James White
CEO

—

KBMO Diagnostics

and special guest moderator
Don Seiffert
Managing Editor

—

Boston Business Journal

2024 Export Expo Sponsors: