The Export Expo will be held virtually on Friday, January 27, 2023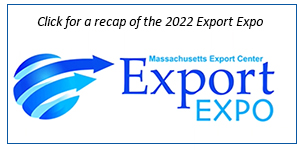 Join us for the Export Expo – the state's largest and most important export event of the year that brings together resources, training and information for the local exporting community!
The Massachusetts Export Center's Export Expo provides a forum for exporters to connect with the wide range of export resources available in Massachusetts while learning about issues that impact their day-to-day operations.
This year's Export Expo will again be a virtual event that will include an exhibit area featuring government, non-profit and private sector service providers serving the export community. The Export Expo will also feature a lineup of workshops, panel discussions and special addresses on a wide variety of export-related topics.

| | | |
| --- | --- | --- |
| | This year's Export Expo will focus on important developments in our international trade environment, including the continued impact of global threats, policy and regulation on global trade operations. Critical issues such as fundamental changes in the drivers behind export control policy, recent export control and enforcement policy actions, shifts in use of list-based sanctions, outbound and inbound foreign investment screening initiatives, impacts of policies involving China and Russia and more will be addressed, with a focus on helping companies to navigate a dynamic and increasingly complex global trade environment. | |

The Export Expo will feature influential guest speakers and opportunities to connect with experts to answer your specific export questions. We hope that you will join us for the same timely and important international trade content in a convenient and safe virtual format! Our virtual platform will provide opportunities for networking and allow participants to view all of the conference's content, so you won't miss a thing!
Sponsorship opportunities are available. Click here for further information.
Date: Friday, January 27, 2023
(with pre-Expo workshops on January 26)
Time: 10:00 a.m. - 4:00 p.m. EST
Location: Virtual
Cost: No charge
Contact: Massachusetts Export Center at 617-973-6610
>> If you're interested in viewing the 2022 Export Expo, click here.

Sponsors: