Legal Clinic (offered monthly)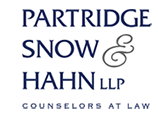 We are very pleased to announce that Chris Cassara, Esq., partner at Partridge Snow & Hahn LLP (PSH), is continuing to hold free legal clinics in our office and at outreach sites. Small business owners can meet one-on-one for 30 minutes to discuss general legal questions such as corporate structure, leases, contracts, insurance, employment, franchising, etc.
All services are provided by PSH which is not acting as an agent or representative of the Massachusetts Small Business Development Center Network (MSBDC). By meeting with PSH you agree to indemnify and hold harmless the MSBDC from any and all claims and liability arising from your session with PSH. Participants will receive a general waiver statement prior to their meeting.
These free & confidential 30-minute sessions are offered on various dates in various locations - please see the calendar below for details. Space is limited, so please register early. If you have questions, call the MSBDC office at 508-673-9783.
Dates: Monthly on Friday - see below
Times: 1:00 - 4:00 p.m. (30-minute appointments)
Location: Varies
Cost: Free
Contact: Register online with link below and a staff member will call to confirm the date and time of your appointment.