These workshops will help you gain a better understanding of the various U.S. Small Business Administration (SBA) programs and services that are available to prospective or current entrepreneurs who need assistance in starting or expanding their businesses.
General information will be provided on the following programs and services:
SCORE – Counselors to America's Small Business
MSBDC – Massachusetts Small Business Development Center Network
SBA Guaranty Loan Programs: 7(a) Loans, Micro Loans, SBA Express Loans, and 504 Project Loan Program
Government Contracting Opportunities: 8(a) Business Development, HUBZones (Historically Underutilized Business Zones), Small Disadvantaged Business, and Surety Bonding
Disaster Assistance
These free two-hour programs are offered frequently at various locations. Please click here for dates, locations and registration information.
Cosponsored by the U.S. Small Business Administration and area chambers of commerce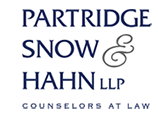 Legal Clinic (offered monthly)
We are pleased to announce that Christopher Cassara, Esq., partner at Partridge Snow & Hahn LLP (PSH), is continuing to hold free Legal Clinics in our office and at our outreach locations. Entrepreneurs and small business owners are eligible to meet one-time, one-on-one for 30 minutes, to discuss general legal questions such as corporate structure, leases, contracts, insurance, employment, franchising, and various other business related issues.
All services are provided by PSH which is not acting as an agent or representative of the Massachusetts Small Business Development Center Network (MSBDC). By meeting with PSH you agree to indemnify and hold harmless the MSBDC from any and all claims and liability arising from your session with PSH. Participants will receive a general waiver statement prior to their meeting.
These free and confidential 30-minute sessions are offered once a month at various locations. Space is limited and registration is required. Registration will open on-line two weeks prior to each Clinic's date.
If you have questions, please call the MSBDC office at 508-673-9783. As a courtesy to Attorney Cassara, who is volunteering his time for the Clinics, please call us at at least 24 hours in advance if you cannot attend.
Dates: Monthly on Fridays - see below
Times: 1:00 - 4:00 p.m. (30-minute appointments)
Location: Varies
Cost: Free
Contact: Register online with the date-specific links below

Date
Location & Details
Fri., Sep 30, 2016

Register online
Location: Rockland

Cosponsored by Partridge Snow & Hahn LLP and the South Shore Chamber of Commerce
Fri., Oct 14, 2016

Register online (available 9/28)
Location: Centerville

Cosponsored by Partridge Snow & Hahn LLP, the Cape Cod Chamber of Commerce, and Coastal Community Capital
Fri., Nov 18, 2016

Register online (available 11/2)
Location: New Bedford

Cosponsored by Partridge Snow & Hahn LLP and the New Bedford Economic Development Council
Fri., Dec 2, 2016

Register online (available 11/16)
Location: Fall River

Cosponsored by Partridge Snow & Hahn LLP and the Fall River Area Chamber of Commerce
How to Develop an Awesome Marketing Plan
What is job ONE for your business? Create Customers! How do you do that? By writing and executing an awesome marketing plan.
This seminar will show you how to do just that. You will walk away with a strategy in place and a marketing plan guide to help you use the tools and tips you learn in this workshop to work for your business.
Please join us to hear from Cliff Robbins, Senior Business Advisor for the MSBDC. Cliff is a management professional and an educator with functional experience in the fields of marketing, sales, strategic planning, and e-commerce. He studied electrical engineering at MIT and Northeastern University and earned a BSBA at Eastern Nazarene College. Cliff received an MBA from UMass Dartmouth and a PhD from Suffield University. He has written numerous articles on strategy and organizational issues for professional and academic journals. Cliff is a member of the National Marketing Association and the Executive Circle.
Date: Thursday, September 29, 2016
Time: Program 5:00 - 7:00 p.m.; Networking 7:00 - 8:00 p.m.
Location: Lakeville Library, 4 Precinct Street, Lakeville
Cost: Free Light refreshments will be served so early registration is encouraged.
Contact: Laurie Driscoll at ldriscoll26@comcast.net or 774-226-8070 by September 22
Cosponsored by the Town of Lakeville Economic Development Committee, Bridgewater Savings Bank, and Cranberry Country Chamber of Commerce