Business Services
The Massachusetts Small Business Development Center's Berkshire Regional Office works with new and existing small businesses in Berkshire County through a combination of free and confidential one-on-one business advising, information and referral, and free and low-cost educational seminars.
The Massachusetts Small Business Development Center Network is designed to effectively service small businesses throughout Massachusetts. There is a counseling, satellite or outreach office within 30 minutes of any potential client in the state.
Business Assistance
A full-time staff of business advisors provide free and confidential business assistance to small businesses. We provide assistance to individuals contemplating a business venture, along with new, existing, expanding and troubled businesses. When you meet with an advisor, please bring any relevant information that you may have on your business or new venture. Preparation for your appointment will help you to maximize the use of the session.
Please complete our SBDC Request for Counseling and bring the form with you to your first counseling session. Please note that our business advisors will not give legal advice, write business plans, negotiate contracts or make decisions for clients. Areas of assistance include, but are not limited to:
Start-up Business Assistance
Business Plan Development
Financial Plan Development
Marketing and Sales Strategies
Cash Flow Analysis
Organizational and Personnel Issues

>> Watch our short business videos on topics including, how to get a business loan, how much money needed to start a business, and choosing the right legal structure for your business to name a few.

Our services are further augmented by the Massachusetts Export Center helps companies throughout the Commonwealth to achieve success in global markets through a statewide network of international trade professionals by providing targeted, high-impact services for exporters, including counseling, training, research and technical assistance. The Massachusetts Export Center is an advisory center of the Massachusetts Small Business Development Center Network.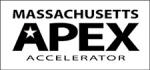 The APEX Accelerator Program (formerly PTAC) advisors are dedicated to providing assistance in bidding, managing and performing on government contracts. Much of the counseling is performed at the client's firm location, making the technical support delivery available in a timely and cost effective manner. E-commerce, including registering, bidding and performing on-line, in a paperless environment is a vital part of federal contracting. PTAC is a counseling center of the Massachusetts Small Business Development Center Network.
Training Seminars
The MSBDC conducts low-cost seminars and workshops addressing a wide range of concerns for both start-up and existing businesses. Many of these programs are co-sponsored with local chambers of commerce, colleges and universities, community development organizations, banks and trade associations.
Financing
Having sufficient financial resources to support your business may make the difference between the success and failure of your business.
The Berkshire Regional Office can help you negotiate the financial challenges faced by start-up and expanding businesses. We do not provide financing. We work with banks and other lending organizations (both conventional and non-conventional sources) to assist in putting together financial projections, but the actual financing comes from outside sources.
The U.S. Small Business Administration (SBA) offers a variety of loan programs to eligible small businesses. Most loans are made by private lenders and then guaranteed by the SBA. We can assist with assembling financial statements, preparing loan applications and securing the best financing options for your business.
Diversity & Inclusion
The MSBDC as a program of the University of Massachusetts Amherst, prohibits discrimination on the basis of race, color, religion, creed, sex, age, marital status, national origin, mental or physical disability, political belief or affiliation, veteran status, sexual orientation, gender identity and expression, genetic information and any other class of individuals protected from discrimination under state or federal law in any aspect of the access to our services.
By contacting our office at 413-499-0933 and requesting at least two weeks in advance, every attempt will be made to reasonably accommodate persons with disabilities and those who need translation services.