Jayne Monteleone-Bellora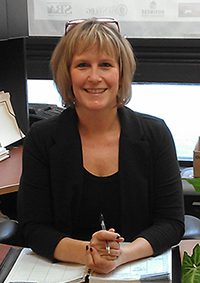 Jayne Monteleone-Bellora joined the MSBDC in November 2016 as our new client services coordinator/office manager. Prior to joining the Berkshire office, she held a position as a licensed insurance agent and for over 13 years was in sales, marketing and advertising at local radio stations. She has extensive knowledge in promoting local businesses throughout Berkshire County.
Jayne, a Pittsfield native, received her Bachelor of Arts Degree in Interdisciplinary Studies with a concentration in Leadership from the Massachusetts College of Liberal Arts. She plans to enter graduate school in the summer of 2017 to obtain a Masters Degree in Organizational Management.
Jayne is the proud Mom to three amazing boys, Rickey and Joseph, both graduates of Westfield State University, and Nicholas. She lives in Lanesborough with her husband, Marc, Nicholas and their puppy, Ali.