MIKEL, Inc.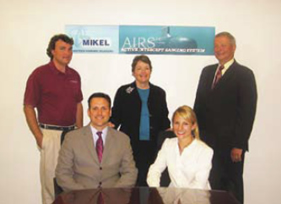 MIKEL, Inc. was founded in 2000 in Fall River by Brian Guimond, primarily as a consulting business for the U.S. Department of Defense and Navy. Within two years he brought on his daughter, Kelly Mendell, a former Gillette manufacturing executive, to assume the presidency and help grow the business.
Today, MIKEL provides innovative, cost effective design solutions addressing operational gaps in maritime technology, defense and security industries. The company is expert in the development, prototyping and training for underwater technology: specifically submarine combat systems; acoustic detection, tracking and localization/positioning; target motion analysis; and automated performance measurement/analysis systems. Under Mendell's leadership, the business has grown to 15 employees and projected revenue this year of $3.5 million, up from $2 million the prior year.
The company received its first SBIR (Small Business Innovation Research) award in 2002 and shortly thereafter moved into incubator space at the University of Massachusetts' Advanced Technology and Manufacturing Center (ATMC) leveraging its technology capabilities and university resources. Mendell recognized that the company needed to expand the depth and breadth of its business in order to compete successfully for the long haul. She also knew that being a minority – woman owned business could significantly improve MIKEL's ability to win more government based work. Mendell reached out to the local SBDC for help. One of the keys to Mendell's success is her emphasis on collaboration: with the ATMC, with the government and with the SBDC.
Mendell has now worked with Daniel Lilly, government sales specialist at the MSBDC Southeast Regional Office for several years. He has helped the business successfully bid and win major contracts. He has guided her through the intricacies of government contracting and has provided meaningful introductions to state and federal personnel. Yet, both Mendell and Lilly recognized that in order for the company to reach its fullest potential it needed to embark on a full scale strategic planning process.
Melinda Ailes of the MSBDC Southeast Regional Office was brought in to facilitate that process. Although the strategic plan is not yet complete, the planning process itself has enlightened the company about its core strengths and opportunities. It has also caused the owners to grapple with family and personnel issues that might have impeded their progress. To date, they have honed their vision, hired key personnel, restructured their executive responsibilities and created new tactics to improve their marketing penetration.
Kelly Mendell recently stated in a local business journal, "While Dan Lilly came at it from the government side, Melinda Ailes helped me with my business plan and strategic vision, and they both were big complements for my business, a good combination.
The MSBDC has been our biggest cheerleader. Unfortunately many people don't know about this place and they are missing out, especially since it's free and their knowledge is worth so much. We will continue to seek out their knowledge and advice. We're not done yet!"