Small Business Saturday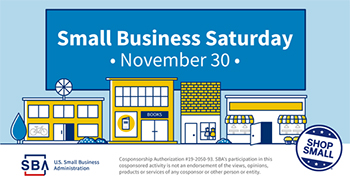 Saturday, November 30, 2019 is Small Business Saturday – a day to celebrate and support small businesses and all they do for their communities. Please join the Massachusetts Small Business Development Center, the U.S. Small Business Administration (SBA), and organizations across the country in supporting your local small business by shopping at a small business!
Founded by American Express in 2010 and officially cosponsored by SBA since 2015, Small Business Saturday has become an important part of how many small businesses launch their busiest shopping season.
According to the 2018 Small Business Saturday Consumer Insights Survey, total reported spending among U.S. consumers who said they shopped at independent retailers and restaurants on the day reached a record high of an estimated $17.8 billion.
>> Find out how to participate