Doing Business with
Base Exchange Stores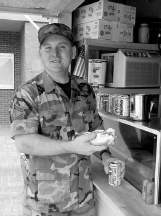 Many PTAC clients statewide have expressed an interest in doing business with the Base Exchange (BX) stores for both Hanscom Air Force Base (AFB) located in Bedford, MA and Westover Air Reserve Base (ARB) located in Chicopee, MA. The Base Exchange stores offer a marketplace for suppliers of consumer-type items, atypical of the general government market. The purpose of this article is to provide a general overview of AAFES and how to get started on marketing to the BX stores.
What is AAFES and what does it do?
Established in July 1895, the Army and Air Force Exchange Service (AAFES) is a joint organization under the U.S. Army and the U.S. Air Force with worldwide headquarters in Dallas, Texas. AAFES buys goods and services from 32,000 firms (of which 90% of these are small businesses) for 7.8 million customers at military installations with sales valued at $7.1 billion ó based on 1998 results. AAFES employs thousands of associates in a number of countries worldwide and operates more than 12,000 activities in businesses such as: barber and beauty shops, bookstores, catalog services, concession stands, florists, and food facilities.
Catalog Sales Program
In addition to local BX stores, the Exchange Catalog is also used by all uniformed services personnel, both active duty and retired (Army, Air Force, Navy, Marines, Coast Guard, National Guard and Reserve) and in overseas areas, State Department personnel. Over 400,000 copies of the catalog are printed twice a year and distributed worldwide to exchange customers.
Hanscom AFB and Westover AFB
There are two AAFES facilities located in Massachusetts. Hanscom AFB consists of a main store, military clothing sales store, laundry/dry cleaners, GNC, flower shop, optical shop, beauty shop, barber shop, Dunkin' Donuts -- all located in the main store complex. Also located on Hanscom is a Shoppette/Class VI, service station, Golden Dragon Chinese Restaurant, pizza shop and a theatre. Although Hanscom AFB is the last active duty installation located in the New England area, the BX complex at Westover AFB is very active and consists of a branch store as well as a large Shoppette/Class VI with gas dispensers.
---
Getting Started
If doing business with AAFES is compatible with your business plan, the following steps are recommended:
Visit the AAFES website at www.shopmyexchange.com.
Obtain and complete a Source List Application (AAFES Form 4200-10) available from all AAFES purchasing activities or PTACís. Note: The AAFES Form 4200-10 serves two purposes: (1) It provides information regarding the different categories of items or services your firm wants to provide; (2) It provides the contracting officer with pertinent information about you as an interested individual/firm.
Submit Form 4200-10 to the purchasing activity that you want to work with.
For Catalog Sales, submit a New Item Catalog fact sheet (available from PTAC) to the category buyer listed on the AAFES website at www.shopmyexchange.com.
---
A
AFES Points of Contact -- A Quick Reference
AAFES Web page
(provides more details on the information provided above)
www.shopmyexchange.com
Hanscom Air Force Base
Main Exchange, Bldg. 1716, Eglin St, Bedford, MA
781-274-8588
Westover Air Reserve Base
Main Exchange, Bldg. 5200, Chicopee, MA
413-593-5941
Non-Resale Items (supplies and equipment used by AAFES activities)
HQ AAFES, Attn: PZ-E, P.O. Box 225880, Dallas, TX 75222-5880
Long-Term Contracts (products and services)
Submit a Source List Application to: Army & Air Force Exchange Service, Attn: SD-F/C, 2727 LBJ Freeway, Dallas, TX 75234-7388
800-234-4008
Short-Term Contracts (consignment items)
Submit a Source List Application directly to the military installation, such as Hanscom AFB or Westover ARB.
---
Overview | Services | Informational Articles & Client Profiles | Request for Counseling
Links | Employee Directory | Veterans Services | HUBZone Program | Contact | Home
___________________________________________________________
Copyright © 2010 University of Massachusetts Amherst. Site Policies.
This site is maintained by the Massachusetts Small Business Development Center Network.