Klara's Gourmet Cookies, LLC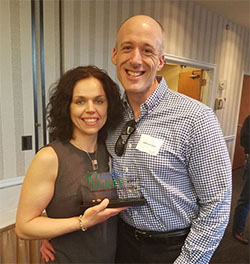 Klara Sotonova hails from Chrast, a village of 5,000, two hours southeast of the historic Czech Republic capital city, Prague. At age 19, Klara emigrated to the U.S., with the dream of owning her own business – one that honored her family's long tradition of home-baked, traditional Eastern European sweets. Klara's rich Czech baking traditions were passed down from her grandmother, as it had been done in her family for generations.
In 2009, Klara settled her business in the small New England town of Lee, Massachusetts, where she and her husband, Jefferson Diller, have been sharing the family's traditional cookies ever since – with retail customers, and as a wholesaler to grocery stores and specialty retailers around the country. They presently sell a line of about 12 varieties of cookies, including Ginger Shortbread, Lemon Poppy Seed Shortbread, Double Chocolate Sea Salt and Coconut Macaroons, and others.
Using natural, organic, non-GMO ingredients wherever possible, Klara's Gourmet brings pure, authentic flavors to her family heirloom of sweets. The MSBDC Berkshire Regional Office has supported Jefferson and Klara with business advice since 2008 as they navigated several challenges and growth opportunities. Most recently, the MSBDC assisted them in successfully obtaining an SBA 504 loan to acquire and renovate a new facility.
Click here to read more about Klara & Jefferson's plans to expand their business in the Berkshire Trade & Commerce journal. Their story is on the front cover.