Future Air Filters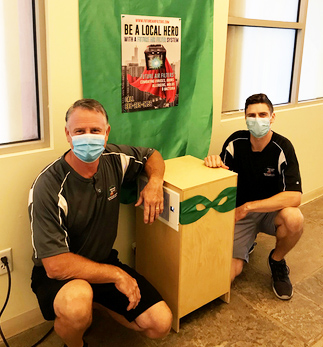 Future Air Filters was born out of a necessity for clean indoor air during the COVID-19 outbreak. HVAC business owners, James and Matthew Patterson, father and son from Orchard Valley Air Solutions, watched with horror as the tragedy at the Holyoke Soldiers' Home unfolded miles away from their home. James thought to himself there must be a solution to help combat the indoor air pollution and help keep the Veterans safe.
James began his research and realized that a technology he was very familiar with, Bi-Polar Ionization was the perfect solution as it is a proven technology that destroys viruses, bacteria, allergens odors and molds that are airborne and on surfaces. This technology has a big advantage over similar technologies like UV lighting and HEPA filtration because the Ionization "actively" cleans the indoor space by sending charged particles out into the room to purify the air.
James had been using this technology inside the duct work of allergy sensitive homeowners and businesses with high foot traffic for the past decade and now was searching for a way to harness this energy within a portable enclosure. Within a week he had built a prototype and thanks to some of his selfless customers who made donations to help build them, James was able to donate two air purification units to the Holyoke Soldiers' Home. He also was able to donate units to the Easthampton and Northampton Fire Departments, The Orchards Golf Club, and to cancer patients recovering at home.
Shortly after the units were donated, James received countless of requests from business owners and homeowners looking for solutions to purify their indoor air as well.
Matthew, James' son, joined the team as co-founder of Future Air Filters. James and Matthew have now taken their product to the next level as they have worked with engineers to develop a modular box designed for ease of assembly that requires no installation for the customer. The customer can simply plug it in and adjust their fan speed to begin purifying the air in enclosed spaces.
Matthew was very excited to reach out to the MSBDC Western Office to share his new product. Since 2019, he has met with MSBDC's Senior Business Advisor, Allen Kronick, to develop the business. Matthew had been a student intern with the MSBDC back in 2015. His internship experience at the MSBDC was one of the highlights of his college experience at the UMass Isenberg School of Management. "The MSBDC was an amazing learning experience for me and I am very excited to share my story", said Matthew Patterson.