The Massachusetts Export Center, in collaboration with The Provident Bank, is pleased to introduce the Export Compliance Fund, an indirect grant fund to help committed small businesses in Massachusetts comply with federal export regulations.
The Export Compliance Fund is designed for small businesses seeking both to understand U.S. export regulations and to develop and implement protocols that ensure compliance. Click here for more details...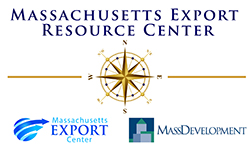 The Massachusetts Export Resource Center is a one-stop online resource for accessing a wide range of instructional and practical information on exporting to help your business grow and take advantage of international opportunities.
The Resource Center features a variety of educational tools, including on-demand training modules, videos guides, workbooks and templates. Registration is free! Click here to learn more.