DJ & T Investments and Neighborhood Grocery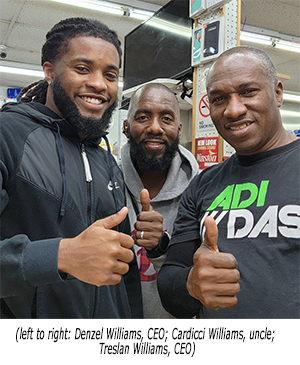 Denzel "DJ" Williams is a strong, confident young man who strategically contemplates all options before making a move. Perhaps that comes from his many years of playing football. DJ has played football most of his young life and both on and off the field, he works extremely hard. A 22-year-old college student at Wesleyan University, DJ takes his college course work very seriously. During the pandemic, his classes went virtual, and all his football games were put on hold. What did he decide to do to fill the void? He decided to start his own business!
DJ and his dad, Treslan Williams, started the Neighborhood Grocery convenience store located at 154 Catherine Street in Springfield. They then purchased the commercial building that housed the convenience store. DJ & T Investments emerged in Western Massachusetts. DJ states, "We keep the people of our community in our best interest. Whether that's cheffing them some of the area's best sandwich grinders or providing them ease of access to most essential affordable grocery, household, outdoors, and even automotive items. My business means everything to me."
DJ and his father are business partners. They are proud to be a successful, black-owned business in the City of Springfield. DJ commented that "I couldn't do any of this without the support of my father. I love him very much. And I've lost some loved ones that have had enormous impacts on my life. I walk with their legacies every day. My journey is unique, I'm inspired to achieve familial goals as well as personal dreams. This alone keeps me climbing higher and higher."
DJ is convinced the valuable business guidance from Allen Kronick, a senior business advisor at the MSBDC Western Regional Office, made all the difference. "Allen is a great guy. Due to the pandemic, we have only met via Zoom, and I have yet to shake his hand. When I do, I think he will feel the praise and appreciation we have for him. One of our most important takeaways from Allen's advice was to avoid using our own capital. Allen drilled that into our heads, 'Use other people's money!' That concept helped us dodge many missiles that would have significantly impacted our business. We needed to do our best to keep our own funds reserved. In business, risk is an important factor that must be properly analyzed. We started our business in a pandemic, and we all know anything can happen. The proudest moment was when we were approved for our loan to take over the store. Shortly thereafter, our bank approved us for the mortgage loan for the real estate associated with the store."
DJ is grateful for the assistance MSBDC has provided in acquiring a storefront business as well as the real estate associated with it. The positive advice and guidance he received have provided a solid financial and strategic position. DJ expects to apply all of the essential concepts and ideas he's learned from MSBDC to his future investments. DJ recommends that new potential clients or existing businesses seek guidance from the MSBDC. Counseling assistance is available free of charge.
Another positive way DJ benefited from working with MSBDC was professional planning. He revised his business plan three different times before presenting those documents to lenders. And that made all the difference in obtaining financing. DJ states, "I think this is important for people to understand and think as a team. People around the world will adopt a more positive attitude towards life and the work that they do. I love what I'm doing, and I see no limit to our future opportunities.
DJ has always been fond of this quote: 'Success is not solely when you cross the finish line or reach your destination. Success is every step forward you took to get there along the journey.'"