Apex Healthcare Services, Inc.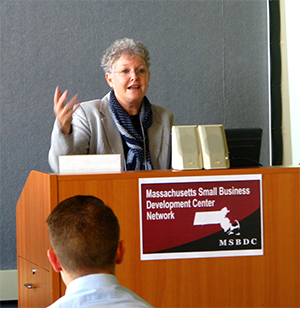 "I'm a dreamer and an idealist; the MSBDC has helped me to become a pragmatist as well," notes Apex Healthcare Services, Inc. owner, Cheryl Rumley [photo]. Founded by Rumley in 1999, the Springfield-based home care agency focuses on services that meet the legal-technical definition of non-medical. That includes personal care, light housekeeping, prescription pick-up, grocery shopping, and hospital-to-home transitions. Although Apex is not certified to administer medical services, Rumley, a registered nurse with extensive prior experience in homecare, views her firm's role in a broader health care context. "We play an important role in the overall healthcare system by providing services to individuals who are no longer entirely independent. Improving their quality of life and helping them to live more independently reduces pressure on nursing homes, hospitals, and other high-cost health care institutions.
"I decided to go into business for myself because I believed that clients and employees deserved a better deal than they were getting from many profit-obsessed homecare agencies. I also believed that my approach would be rewarded in the marketplace," Rumley emphasizes. "From my previous professional experience, I was confident of my ability to market Apex (Rumley had been marketing director of a homecare health care provider) and bring quality homecare standards to my clients; what I needed was an understanding of the financial nuts and bolts of the business. To that end, the Western Massachusetts SBDC, its director Dianne Doherty, office manager Diane Randall, and especially management counselor Allen Kronick pretty much became my business confidants."
Three months before Rumley launched her business in the beginning of 1999, Kronick reviewed her business plan, suggested modifications, and recommended additional resources for evaluating her venture's market potential. When Rumley returned a month later, Kronick urged her to revise her cash flow statements and to clarify her cash projections and supporting schedules. At the same time, he asked her to prepare a profit-and-loss statement and a balance sheet to help frame an evaluation of alternative financial strategies and costs, including worker compensation and liability insurance. Early on Cheryl had unsuccessfully sought financing from a banker who subsequently told her to fold. Recalls Kronick, "I encouraged her to keep going because, in addition to a strong business model and business plan, she had the necessary qualifications to make it happen: she had the wherewithal, experience, perseverance, passion, inherent business skills, and a supportive family."
During Apex' first year, the two met monthly or bimonthly to review the firm's financial systems and growth strategies. "There was an ongoing discussion of expenses—of controlling overhead and of what to spend money on in terms of advertising and other variable costs," explains Rumley. "From an analysis of my competitors, we also concluded that I was pricing our services too low. (Apex' clients and referral base in Western Massachusetts include senior services centers, elder care service providers, attorneys who specialize in elder law, and middle age adults who seek services for aging parents.) My work with Allen ultimately helped Apex to secure business loans and new lines of credit. As we continued to grow, Allen, who teaches a course at the UMass Amherst Isenberg School, had a group of business students create a business-marketing plan for our expansion into the Amherst-Northampton area.
"I've also had numerous discussions with Allen about hiring, firing, and other personnel issues," Rumley continues. Most of Apex' seventy employees are $10-an-hour homecare workers with high school educations. "On my end of the health care marketplace, the Balanced Budget Act of 1997 and its tough restrictions on Medicare tied our hands in compensating homecare workers. It's hard for many of our employees to make ends meet," observes Rumley, who offers them no-interest loans of up to $300, which they can repay through future wages. In 2003, Apex was honored as an Exemplary Employer by the Governor's Commission of Employment of People with Disabilities. "My philosophy and practice have been to protect employees and clients through judicious employee screening, placement, and supervision," she emphasizes. "Nurses review and evaluate client cases every three months. In five years, I've had no liability issues."
Rumley's pro-client, pro-employee approach has been good for business as well. Apex' revenues rose from $200,000 to $1.2 million over its first four years, earning the company a high berth among firms in the Super 60, a roster of high-revenue-growth small businesses honored annually by the Affiliated Chambers of Commerce of Greater Springfield. Today, Apex has 70 employees and over $1 million in sales.
"During the past two years, Apex' growth has been more controlled," Rumley continues. "We've spun off a home care service for children with special needs that MSBDC helped us start in 2003. A mainstay of our future will be to franchise Apex' business-homecare model to sites beyond Western Massachusetts. We're on the threshold of franchising to two sites in Central and Eastern Massachusetts. Allen has emphasized that for franchising to succeed, Apex must have a system in place that incorporates personnel manuals, accounting records, marketing plans, and other operational essentials. In five years, we've come a long way. We certainly would not have progressed as far and as fast without the MSBDC's help. At times, they've almost been like a business partner."
"From my previous professional experience, I was confident of my ability to market Apex and bring quality homecare standards to my clients; what I needed was an understanding of the financial nuts and bolts of the business. To that end, the Western Massachusetts SBDC, its director Dianne Doherty, office manager Diane Randall, and especially management counselor Allen Kronick pretty much became my business confidants." ~ Cheryl Rumley