Full Circle Padding, Inc.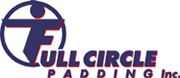 Over 20 years ago, Chuck Rogers started Full Circle Padding Inc. of Norton, a small company that manufactured exercise equipment pads for the Fitness Industry. A few years later there was a need for help in the manufacturing process and his brother Colin came on board to manage the shop. After a few more years passed, his wife Laura joined in to take over the financials.
Although the family business began to grow steadily, from 2 to 18 employees, as time progressed the company started to flatten out. Sales remained flat and at the company's profit began to level off. The company saw the need for outside help and looked to financial consultants for advice. "After several interviews we discovered the consultants were either too much money or talked over our heads instead of listening to our needs" says Laura Rogers. The company, ready to give up seeking assistance until they noticed an article in the Chamber of Commerce newsletter regarding free business consulting services offered by the MSBDC. "We immediately called and made our first appointment with Melinda Ailes and have been meeting with her once every other month for the past two years."
Melinda recognized that the company needed help in their manufacturing process and referred them to the Greater Boston Manufacturing Partnership and the Work Force Training program of Massachusetts. Following her advice the company received a grant for training in the practice of "Lean Manufacturing". "This training is ongoing. Everyday we continue to improve our productivity and satisfy our customer's needs" says Full Circle's President, Chuck Rogers.
To the surprise of all at the company, the most productive result from the MSBDC's advice was not financial at all. It was actually teaching them to think strategically about their business. According to Chuck, "First we learned how to improve our quality and the productivity of our employees. We realized that the expectations and guidelines we created were important to them as well as the company."
The MSBDC also taught the company how to continually generate new sales, not simply manage existing customers. The company started to follow up on unsuccessful past quotes and finished their website which now generates at least 2 new customers per week. They are currently looking into new ways to increase sales. New strategies include direct mail and attending trade shows to generate a larger customer base.
According to Chuck, "Once we learned to think differently the results were obvious. Since working with Melinda over the last two years our sales have increased 10% and the company is showing an increased profit. We have now set goals to keep this momentum going and really feel our time and effort is paying off."