Emitech, Inc.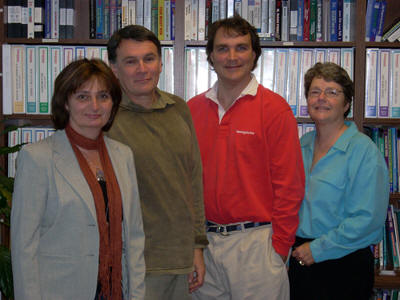 "I wish I had met Melinda [Ailes] and Dan [Lilly] when we just started our company" observes Emitech president, Marina Katayeva [photo left]. "It would have made the learning curve of developing our own business much easier."
Founded in 2002 in Fall River by Marina and her husband, Igor Levitsky [photo second from left], an experienced physicist and materials scientist, the Fall River firm excels in the development of innovative nanotechnologies and optoelectronic materials.
Emitech's main efforts aim at transferring the latest scientific breakthroughs to state-of-the-art technologies followed by device prototyping and commercialization. Their R&D activities are mostly focused on the development of new electronic and optoelectronic devices, such as optochemical sensors, nanocomposite electrical- and photoactuators, IR detectors and solar cells.
"For several years we had Small Business Innovation Research (SBIR) funding for projects with Phase I and Phase II funding," notes Katayeva. The Federal SBIR program channels funding to high-technology ventures through three progressive phases: Phase I entails a six-month feasibility study; Phase II involves its further development for two years; and Phase III focuses on commercialization of the idea through private sector or non-SBIR government funding. In Emitech's case, that includes support from the U.S. Army, Air Force, Navy, and the National Science Foundation.
The MSBDC's services to Emitech have been comprehensive. "Meeting Melinda and Daniel was almost by accident," recalls Katayeva, who first visited the MSBDC's Southeast Regional Office in Fall River at the beginning of 2007. "We needed to open a line of credit for our business. The banks—even my own—wouldn't cooperate. Melinda helped us to make the right moves in the right directions, which brought us to a successful result. She was very knowledgeable and friendly at the same time. That encouraged us to use her advice again. Melinda introduced us to Dan Lilly, the regional MSBDC government sales specialist. It was of great benefit for Emitech to find somebody with his kind of expertise."
Lilly and other procurement experts affiliated with MSBDC offices around the state, identify government contract opportunities and guide clients through the maze of application and contract paperwork and regulations. Clients visit Lilly because they know he can help them increase their success rate with government funding, but Lilly views his role in broader strategic terms. "I help Marina and other clients with basic contract activities. But I also encourage them to see the bigger picture. That includes protecting their research and thinking proactively about expanding its applications."
"Through the MSBDC, I receive an online database service that gives us regular updates and links to government opportunities in our areas of expertise," explains Katayeva. "But I value Dan and Melinda above all for their advice on which funding opportunities fit best into our business plan and how we should pursue them. That includes advice on patents, lawyers, marketing, networking, and subcontractors."
"Dan and I always meet together as a team with Marina and her husband," emphasizes Ailes, who is a senior business advisor at the MSBDC's Southeast Regional Office. "Our approach is to offer Emitech services that integrate a broad range of activities: their business and marketing plans, financing, technology and development decisions, patent licensing, and obtaining and pursuing government contracts," observes Ailes. "Our aim is to help Emitech develop a full-blown strategy that incorporates all facets of its business development. We want Marina to ask strategic questions about her business."
To date, Emitech's most commercially advanced project is an explosive detector based on organic inorganic nanocomposite materials. (The firm is also developing gas-detecting technologies for nonmilitary uses, such as breath analysis.) That venture is on the threshold of Phase III SBIR commercialization. "The first prototype of the explosive detector was successfully tested at Army facilities in April of 2008. We have a commercial partner, a company that will manufacture our second more developed prototype for the field test followed by product commercialization," notes Katayeva, who is investigating manufacturing arrangements for the device. "Dan and Melinda have urged us at this stage to ask: "Do we get involved with the product's manufacture or do we license the technology?"
"They both have a keen sense of timing," Katayeva continues. "They know when you're ready to move to the next level of development. They make sure you don't hesitate, because if you do, someone else may beat you to the market. The best part of Melinda and Dan's assistance is that they know and enjoy what they are doing. That makes the whole process of our collaboration very productive."
"We're currently a team of five: two scientists, an electrical engineer, a bookkeeper, and me. I run the business and do all the marketing by myself because our budget and our time are limited. When I don't sleep, I work," emphasizes Marina, who had just returned from a conference in California, entitled Beyond Phase II. "But I wouldn't have it any other way. It's a privilege to own my own company."
Photo left to right: Marina Katayeva, Igor Levitsky, Daniel Lilly, Melinda Ailes