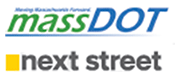 Join MassDOT, in partnership with Next Street, for a 3-day workshop series for local business owners who want to build capacity and grow their business to secure procurement opportunities with the Massachusetts Department of Transportation.
You will learn "what it takes" to scale and build a sustainable business through:
Strategy: Know how your business is positioned and create a strategic plan that will edge out the competition and grow your business.

Financial Management: Know how you compare to other businesses in the market. Get a personalized assessment of the financial health of your business and the financial tools you need to plan for growth.

Pursuing Contracts: Master the MassDOT contract application and bidding process and learn how to network with other firms to bid on the more than $3 billion dollars in upcoming MassDOT contracts.

Talent Management: Gain techniques to better understand your team's strengths and leverage your leadership skills to drive performance.

Certification Benefits: Learn more about the benefits of becoming or maintaining a M/W/DBE certification.
Key benefits of the program include:
Prime Roundtable: Learn about upcoming bid and partnerships opportunities with large prime contractors.

Contract Steering Committee: Meet Senior Procurement O!cers from several state agencies responsible for awarding contracts (i.e. MassDOT, MassPort, MBTA, DCAMM, etc.).

Action Plan: Create an action plan to scale your business, pursue partnerships & target MassDOT bid opportunities.

Network & Teaming: Meet other M/W/D/SBEs interested in growing their business and joint venturing.
Who should attend:
Participants in the program should meet the following criteria:
Business Location: Based in Massachusetts

Certification: Businesses that are or interested in becoming M/W/DBE certified

Track Record: Businesses that have or are interested in bidding on MassDOT contracts

Commitment: CEO must be available to participate in all 3 session dates
Dates: September 4, 18 & October 2, 2014
Time: 8:00 a.m. – 4:00 p.m.
Location: Pioneer Valley Transit Authority (PVTA), 2808 Main Street, 3rd Floor, Springfield (parking reserved in PVTA's bus garage)
Cost: Free
Contact: To register, contact Lynn Wahlquist at 617-312-1361 or via e-mail at
register@nextstreet.com
Click here for a flyer (pdf).